UPDATE: Gallagher's Dice Now Available for Purchase
Want a few more rolls in Gallagher's Dice game? You can now obtain the Gallagher's Die straight from the Supply Depot for the remainder of the event! Each Die purchased through the Supply Depot will act exactly the same as one earned by killing Vindictus' Raid bosses, with the same chances for the wide variety of rewards, including the adorable Cat Headpiece.
Item Name
Gallagher's Die
Sale Start
Wednesday, February 17th, 2016 (End of Maintenance)
Sale End
Thursday, March 10th, 2016 (Start of Maintenance)
Location
Supply Depot
Contents

Each Gallagher's Die gives a single roll in Gallagher's Dice game

Price

1x Die: 400 NX
10x Dice: 4,000 NX

Notes

Gallagher's Die will no longer be useful when the event ends during the March 10th Maintenance
Gallagher's Die cannot be traded
---
Gallagher's Dice Game
Gallagher's special board game is back for another round, and we've got a new round of prizes for you! Raid bosses throughout Vindictus on Normal or higher difficulty will drop Gallagher's Die, giving you a roll on the board!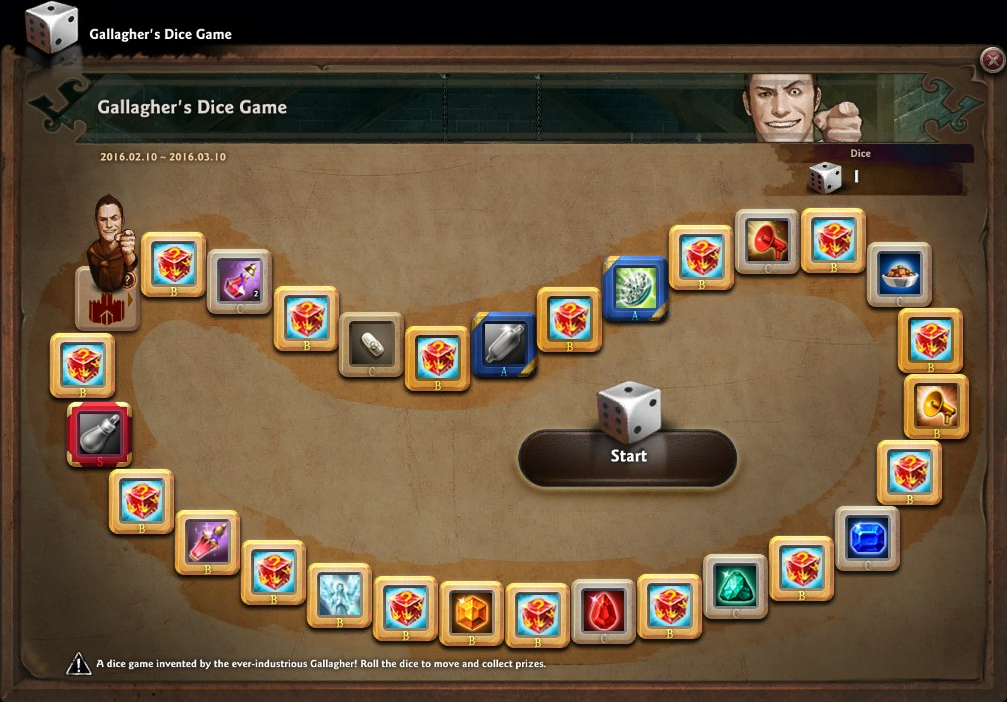 Each roll will move your token on the board forward one to six spaces, giving you the prize from the spot you landed on. Some spots are worth more than others, with Avatar Dye Ampoules, Clodagh's Dye Ampoules and Armor Fusion Runes being among the most valuable of prizes, and every time you complete a circuit of the board you'll get a free Goddess Grace (Party)!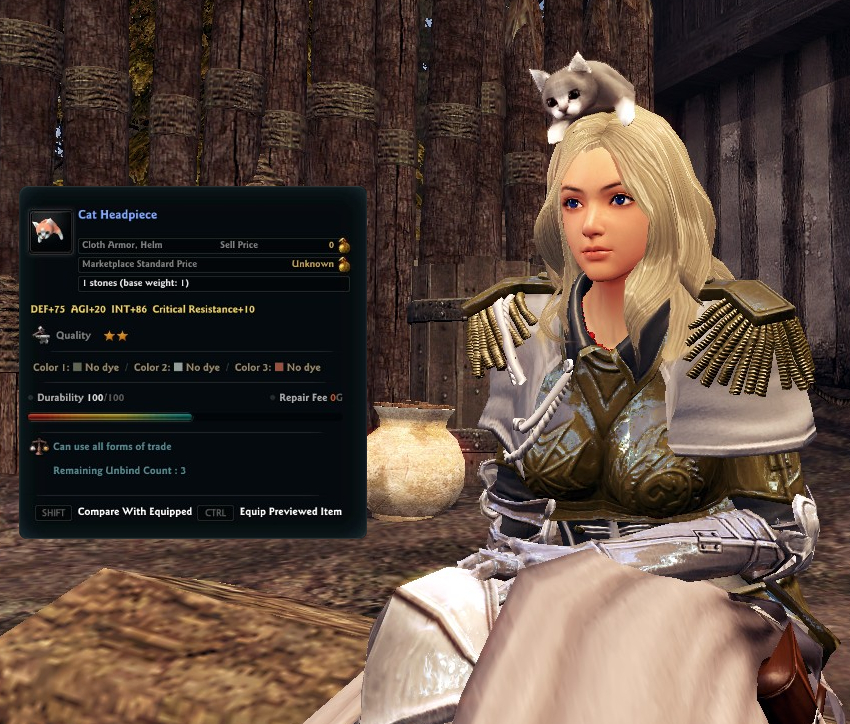 The board may also reward Gallagher's Strange Box, which contains a random item, including Health Potions, AP Capsules, Enchant Runes and more. The grand prize of this new box, however, is the brand new and absolutely adorable Cat Headpiece, allowing you to go into battle with a kitten perched on your head, watching the action from the front row!
Event Name
Gallagher's Dice Game
Event Start
Wednesday, February 10th, 2016 (12:00 PM PST, 3:00 PM EST, 7:00 AM 2/11 AEDT)
Event End
Thursday, March 10th, 2016 (Start of Maintenance)
How to Play

Defeat Raid Bosses to obtain a Gallagher's Die
Go to the Gallagher's Dice Game under the Random menu
Roll the die and claim your prize!

Rewards

Gallagher's Dice Game Rewards:

1x Avatar Dye Ampoule
1x Armor Fusion Rune
1x Clodagh's Dye Ampoule
1x Gallagher's Strange Box
1x Channel Megaphone
1x Experience, Lucky, AP or Divine Blessing Stone
1x Goddess Grace
1x Merc Recovery Potion Plus
1x Merc Recovery Potions
1x Premium Pet Feed
1x Server Megaphone
1x Skill Reset Capsule

Gallagher's Strange Box:

1x Cat Headpiece
1x AP 100, 200, 500 or 1000 Capsule
1x Armor Fusion Rune
1x Avatar or Clodagh's Dye Ampoule
1x Blessed Magic Elixir
1x Channel or Server Megaphone
1x Element Shard
1x Element Stone
1x Element Stone Catalyst
1x Empowered or Paradise Enhancement Stone
1x Enchant Rune
1x Enhancement Elixir
1x Enhancement Rune
1x Experience, Lucky, AP or Divine Blessing Stone
1x Exquisite or Godly Iron Ore
1x Fine Rose, Fine Matcha or Fine Honey Bath Soap
1x Goddess Grace (Solo or Party)
1x Godly Cloth
5x HP, Fine HP or Superior HP Potion
1x Intermediate Element Stone
1x Lambent Powder
1x Magic Stone
1x Merc Recovery Plus Potion
2x Merc Recovery Potion
1x Orb
1x Paradise Orb
5x Party Revival Feather
5x Phoenix Feather
1x Premium Pet Feed
1x Skill Reset Capsule
1x Spirit Magic Powder
1x Spirit Water

Notes

Cat Headpiece is a Head Gear item with a randomly generated color, and can have its appearance transferred onto another Head item with an Armor Fusion Rune
Gallagher's Die will no longer be useful when the event ends during the March 10th Maintenance
Raids without a departure restriction will only have a 50% chance of obtaining Gallagher's Die
Gallagher's Die cannot be traded
Cat Headpieces can be traded