It's Easter Weekend and we're pulling out a bonus to help get your characters as powerful as possible! All Mercenaries will earn double EXP and AP from Battles and claim a bonus Evil Core from the bosses for six hours this weekend, and you can get your hands on a discounted Cadet Badge and Beauty Package all weekend long. Check out the details below and enjoy the Easter Weekend Event.
---
Easter Weekend Event
Event Name
Easter Weekend Event
Event Times

East Region: 6:00 PM - 9:00 PM EDT (UTC-4)
Saturday and Sunday, March 26-27
West Region: 6:00 PM - 9:00 PM PDT (UTC-7)
Saturday and Sunday, March 26-27
Australia Region: 6:00 PM - 9:00 PM AEDT (UTC+11)
Saturday and Sunday, March 26-27

Event Details

2x Battle EXP and AP
+1 Evil Core from Bosses
---
Beauty Package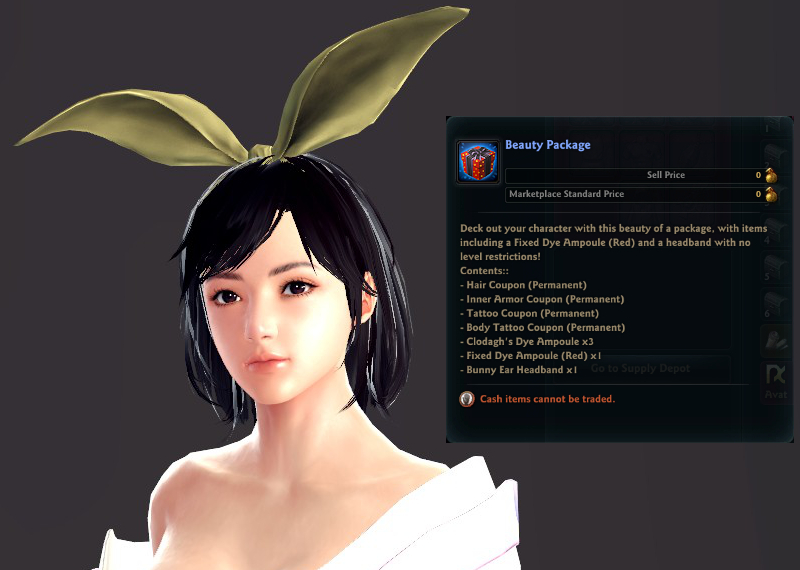 Item Name
Beauty Package
Sale Start
Friday, March 25, 2016
Sale End
Monday, March 28, 2016 (12:00 PM PDT, 3:00 PM EDT, 6:00 AM AEDT 3/29)
Location
Supply Depot
Contents

Permanent Hair Coupon
Permanent Inner Armor Coupon
Permanent Tattoo Coupon
Permanent Body Tattoo Coupon
3x Clodagh's Dye Ampoule
1x Fixed Clodagh's Dye Ampoule (Red)
1x Bunny Ear Headband

Price
Notes

Over a 30,000 NX value
Bunny Ear Headband has no level restriction
Bunny Ear Headband is an equippable item, not an Outfitter item
Bunny Ear Headband can only be worn by Arisha, Evie, Fiona, Kai, Lann, Lynn, Sylas and Vella. Cannot be worn by Karok or Hurk.
---
50% Off Cadet Badge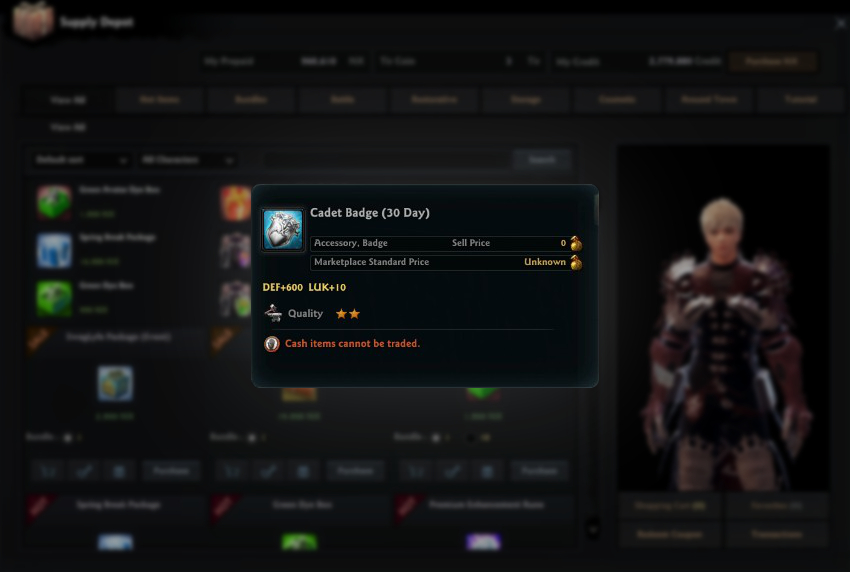 Item Name
Cadet Badge
Sale Start
Friday, March 25, 2016
Sale End
Monday, March 28, 2016 (12:00 PM PDT, 3:00 PM EDT, 6:00 AM AEDT 3/29)
Location
Supply Depot
Details

Gives +600 DEF and +10 LUK

DEF: Decreases the damage taken from attacks
LUK: Increases the chance of obtaining additional Evil Cores from Bosses

Price
Notes

Equipped in the Badge slot in the NX Tab
Can purchase once per Account at the Sale price