Christmas is a week and a half away, and Colhen's grand Christmas tree has returned! Help decorate it, get some sweets for the season and claim some special headgear to boot!
Christmas Tree Event
Colhen's tree is up in the courtyard, but it's looking awful lonely and bare! Help the Strange Traveler collect ornaments to finish up the decorating and claim your own presents with some Christmas-themed head gear!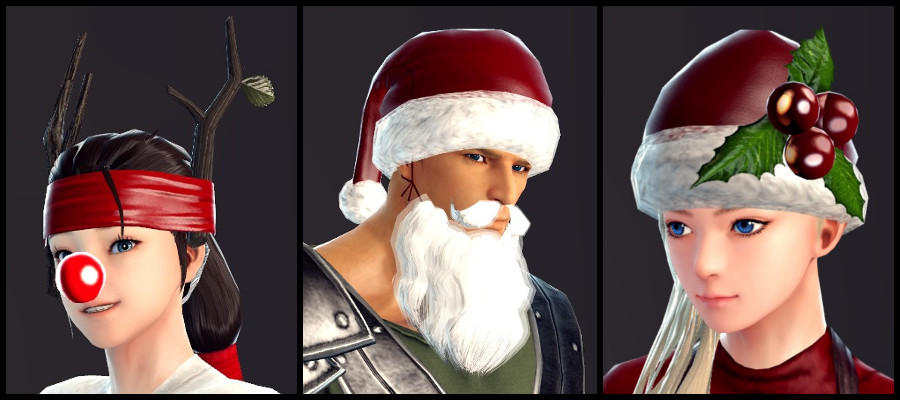 Event Name
Christmas Tree Event
Event Start
Thursday, December 14th (End of Maintenance)
Event End
Thursday, January 11th, 2018 (Start of Maintenance)
Event Details

Fight in Battle Quests and collect Christmas Ornaments by destroying objects
Turn in Christmas Ornaments to the Strange Traveler to help decorate the tree and gain Christmas Cake and Christmas Pudding

Christmas Cake: Recovers HP when eaten during battle quests (same recovery as Merc Recovery Potions)
Christmas Pudding: Increases ATT and M.ATT by 300 for 60 seconds

Keep turning in Christmas Ornaments to claim more cake and pudding and help the tree get fully decorated!
Once the tree is fully decorated, all players on the server will gain +25% EXP and +25% AP until the Thursday, January 11th maintenance
Those that contributed Christmas Ornaments can speak to the Strange Traveler and gain a Santa Hat Box and the special "Shiny Knight" title
Santa Hat Box allows you to choose one of the following items:

Bearded Santa Hat (Male Characters Only)
Santa Bobble Hat (Female Characters Only)
Rudolph Hat (All Characters)

Notes

Title reward no stats
Christmas Cake, Pudding and Ornaments expires on Wednesday, January 10th at the noted times:

9:00 AM PST (UTC -8)
12:00 PM EST (UTC -5)
6:00 PM CET (UTC +1)
4:00 AM AEDT, January 11th (UTC +11)

Santa Hat Box contents are Head Gear items with low stats, and can have their appearance transferred to another item via an Armor Fusion Rune
Rudolph Hat's nose glows red, as it should
---
Christmas On-Time Event
Not getting enough ornaments from Battle Quests? Claim more with the Christmas On-Time Event, plus bonus Seal of Bravery or Triumph Medals!
Event Name
Christmas On-Time Event
Event Start
Thursday, December 14th (End of Maintenance)
Event End
Thursday, January 11th, 2018 (Start of Maintenance)
Event Details

Stay online and with every hour, up to five hours per day, get rewarded a special prize!

Hour 1: Shiny Christmas Present: Contains a Christmas Ornament and a Holy Seal Box
Hour 2: Shiny Christmas Present: Contains a Christmas Ornament and a Holy Seal Box
Hour 3: Shiny Christmas Present: Contains a Christmas Ornament and a Holy Seal Box
Hour 4: Christmas Ornament
Hour 5: Christmas Ornament

Holy Seal Box contains your choice of a Seal of Bravery or a Triumph Medal
Christmas Ornament can be turned in during the Christmas Tree Event!

Notes

"Days" begin at:

9:00 AM PST (UTC -8)
12:00 PM EST (UTC -5)
6:00 PM CET (UTC +1)
4:00 AM AEDT (UTC +11)