bigheader
UPDATE 3: The Ultimate Objective Exchange Shop has been reopened, and will remain open until Thursday, September 10th.
---
UPDATE 2: While the Ultimate Objective Event has ended, we're going to be keeping the Ticket Store active for another week, to make sure you have time to pick up your rewards! You'll have until the maintenance on Wednesday, August 19th to redeem your tickets.
---
UPDATE: The Race to 90 Event has been extended by six days! It will now end at midnight on Tuesday, August 18th, so enjoy the extra chance at these exclusive titles!
---
Are you ready for Level 90? Hope so, because this is your only chance to claim some exclusive titles, but only if you're able to make it in time! If you're still trying to reach the Season 3 battle quests, we're putting on a special weekend event, tailor made for those that are on the way to hitting level 80, and special prizes if the entire Vindictus Community can band together and take out the enemy! There's even more events below, so take a look and join the battle!
---
Race to 90 Event
The Level Cap has been lifted to 90, which brings forth the obvious question: Who can hit the new level cap first? We have three special titles available, from now until August 18th, but some are going to be a lot harder to get than the others...
First off, all players that reach Level 90 before the end of the event will receive the "Closer to the Gods title". It might not be flashy, but it's going to take you some effort in order to hit that. But why stop there when you can claim the "Ninety Non-Problems" title, by getting a second character up to Level 90? That title will be awarded to all the level 90 characters on your account, great for bragging rights.
But the real prize will be the "90 MPH" title. This special title will only be awarded to 9 characters: The ones that reached Level 90 first in the class. Time will be tight, the challenge will be significant, so if you're up for this challenge, grab your friends and get to it!
Event Name
Race to 90 Event
Event Start
Thursday, July 16th, 2015
Event End
Tuesday, August 18th, 2015 (11:59:59 PM PDT)
Rewards

"Closer to the Gods" Title: Reach Level 90 on one character
"Ninety Non-Problems" Title: Reach Level 90 on two characters
"

90 MPH

" Title: Be the first of your class to reach Level 90

Notes

Race to 90 titles give no stats
Titles will be awarded during the August 19th Maintenance
This has been extended by six days, originally would have ended on August 12th.
---
Ultimate Objective Event
From now through August 13th, we're unleashing a new set of challenges for you, but there's a special twist to them: You're not just fighting for yourself this time, you're fighting for the entire server.
In the Event Section, there are two new sections. The new Ultimate Objective Event section details a list of daily Objectives to complete, be it defeating bosses or completing Battle Quests. Whenever the server as a whole completes these challenges, everyone that helped contribute to the Objective, and anyone else logged on at the time, will be rewarded with a number of Ultimate Objective Packages.
When opened, Ultimate Objective Packages will reward you with an Ultimate Objective Footprint Ticket and Merc Potions, Goddess Graces or Dye Ampoules. Gather enough tickets, and you'll be able to take them to the Exchange Shop and purchase special Enchant scrolls, a Max Awakening Increase Potion, exclusive Regina Emblems or the new Chef Outfitter!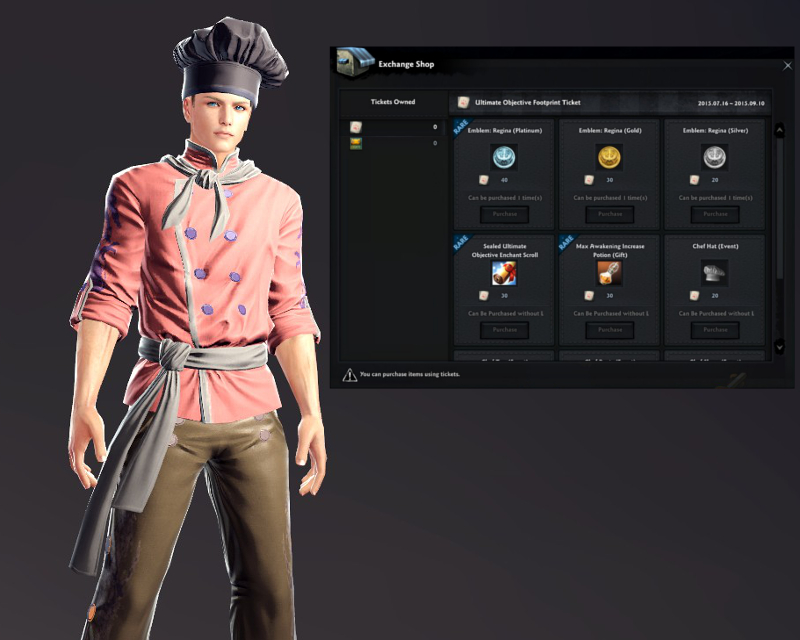 Help complete every Challenge, and you'll be able to earn up to 188 Ultimate Objective Footprint Tickets, not to mention the massive pile of Potions, Graces and Ampoules!
Event Name
Ultimate Objective Event
Event Start
Thursday, July 16th, 2015
Event End
Thursday, August 13th, 2015 (10:00 AM PDT)
What

Help your server complete Objectives to claim Ultimate Objective Footprint Tickets.
Trade Tickets in for event-exclusive items

Rewards

Ultimate Objective Packages: 1x Ticket + One of:

1x Avatar Dye Ampoule
1x Clodagh's Dye Ampoule
1x Goddess Grace (Party)
1x Goddess Grace
4x Party Merc Recovery Potion
4x Merc Recovery Potion Plus
4x Merc Recovery Potion

Ultimate Objective Footprint Tickets:

40x Tickets: 1x Emblem: Regina (Platinum)
30x Tickets: 1x Emblem: Regina (Gold)
20x Tickets: 1x Emblem: Regina (Silver)
30x Tickets: 1x Sealed Ultimate Objective Enchant Scroll
30x Tickets: 1x Max Awakening Increase Potion
20x Tickets: 1x Chef Hat
24x Tickets: 1x Chef Short Top
24x Tickets: 1x Chef Skirt
24x Tickets: 1x Chef Boots

Notes

Players that contribute to an objective, or are online when the objective is completed, will receive the rewards.
Objective progress is independent to each server (East, West, Australian).
Each Objective will only reward once per account.
Prizes will be automatically rewarded to participating accounts, once the Objective is completed, to the current character if the player is online, or to the last character that participated if the player is offline.
Ultimate Objective Packages and Tickets can be sent to other characters on the same account, either via Shared Storage or through mail.
Ultimate Objective Footprint Tickets can be redeemed until the maintenance on Thursday, September 10th.
---
Booster Weekend Event
Not quite ready for Season 3 yet? No problem, for the next three weekends, we're going to give you a leg-up to help you get there! For the weekends starting July 17th, July 24th and July 31st, characters between levels 30 and 79 will receive +100% EXP between 3:00 and 8:00 PM PDT each day of the weekend!
Want more than XP, or already above level 80? There's still something for you here, because from 12:00 to 3:00 PM PDT on the weekends, all characters, regardless of level, will earn double AP! Carry on the good fight, because the battles of Season 3 await!
Event Name
Booster Weekend Event
Event Dates

Friday, July 17th - Sunday, July 19th, 2015
Friday, July 24th - Sunday, July 26th, 2015
Friday, July 31st - Sunday, August 2nd, 2015

+100% AP Boost Times
12:00 PM - 3:00 PM PDT (UTC-7)
+100% EXP Boost Times
3:00 PM - 8:00 PM PDT (UTC-7)
Level 30 - 79 Characters Only
Notes

+100% AP Does not apply to Daily "Today" Runs
---
Regina Raid Event
Want to hone your skills against Vindictus' newest boss? Regina's ready to fight, and we're giving you an extra shot at her! From now until August 13th, you'll be allowed an extra attempt at defeating Regina each day, so grab a sword and try not to get killed!
| | |
| --- | --- |
| Event Name | Regina Raid Event |
| Event Start | Thursday, July 16th, 2015 |
| Event End | Thursday, August 13th, 2015 (10:00 AM PDT) |
| What | +1 Raid (Regina only) |
---
Continuing Event: Enlistment Bonus Event
New players still have over a month left to join in with the Enlistment Bonus Event! 28 days of free login rewards, just for starting out your journey in the world of Vindictus! You can check out the full details in the Fancy Footwork Event post.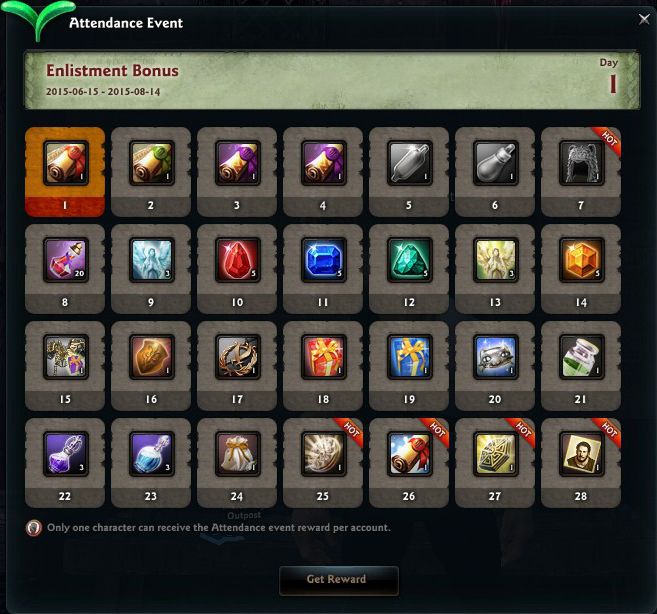 Event Name
Enlistment Bonus Event
Event Start
Wednesday, June 17th, 2015
Event End
Tuesday, September 1st, 2015 (10:00 AM PDT)
What
Players with new accounts can login for a wide variety of rewards
Key Reward Days

Day 1: 15 Days Unlimited Inner Armor Pass
Day 7: Exclusive Burning Gnoll Helm (75 DEF, 2 Crit. Res.)
Day 9: 3x Goddess Grace
Day 15: 2 Day +5 Equipment Package
Day 16: 7 Day Novice Badge
Day 18: 1x Weapon Surprise Supplies (Revamped)
Day 20: Exclusive 30 Day Greater Mysterious Cat Statue (Recharges 250 SP when used in-battle)
Day 24: Exclusive 1x Average Enchant Scroll Box (Rewards  a random Enchant Scroll)
Day 28: Exclusive Equipment +8 Enhancement Exchange Coupon (Boosts a piece of equipment up to +8)

Notes

Players have 60 Days from their first login to claim their 28 login prizes. This time can extend past September 1st, simply must login for the first time at some point before September 1st.
Must have created first Vindictus character on the account after the beginning of the event.
We hope you enjoy everything that comes with the first full Episode of Season 3, and claim your just rewards!
-- The Vindictus Team --