Damascus Steel Event
| | |
| --- | --- |
| Start Date | End Date |
| November 6th (After Maintenance) | December 11th (Before Maintenance) |
During the event period, we have decided to add the 'Damascus Steel (Binding)' item at the AP Shop!
However, it's only sold for a limited time and at a limited quantity per week so don't miss this chance to get your 'Damascus Steel!'
* Note: Only 3 Maximum 'Damascus Steel (Binding)' can be purchased per week. (Total 12 Maximum per Month.)
Temporal Box Event
| | |
| --- | --- |
| Start Date | End Date |
| November 6th (After Maintenance) | December 11th (Before Maintenance) |
The Exchange Shop will close on December 18th, 2018 (Before Maintenance)
We're throwing out prizes every hour, but you're going to have to work a bit to unlock them. Every hour, up to five times per day, you'll be given a Temporal Box containing a random item and a coupon to spend at the Exchange Shop. You won't be able to open the box simply, however, the Temporal Keys required can be found by completing Battle Quests and slaying the boss, or sold from the Strange Traveler for 150,000 Gold!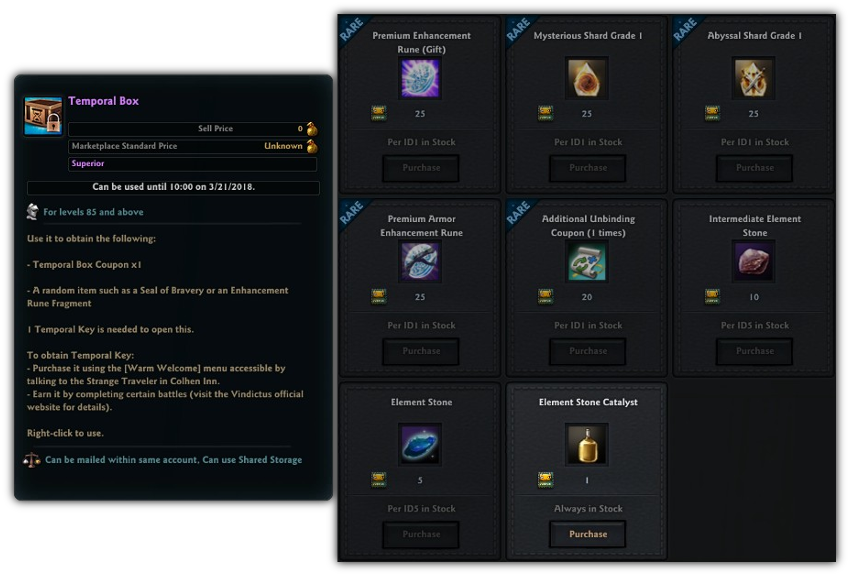 Every 1 hour spent in-game, you will be rewarded a Temporal Box (Max. 5 per Day).
Temporal Boxes can only be opened with Temporal Keys that can be acquired in one of two ways:

The Strange Traveler's Warm Welcome Shop sells Temporal Keys for 150,000 Gold each.
Killing bosses in battle quests have a 50% chance of rewarding a Temporal Key.

Temporal Boxes contain a random item, plus a Temporal Coupon that can be taken to the Exchange Shop for a selection of items.