Event Period: June 16th - July 21st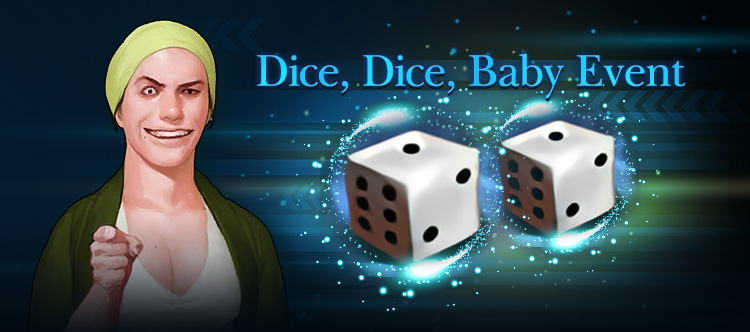 A Mercenary has got to do what a Mercenary has got to do! And they are your Daily Missions! But we'd like to give you a refreshing reward in this heat every time you finish them! Complete this job and receive dices from us to roll for some rewards! According to your move, you'll win refreshments! Stay hydrated Mercenary!

Event Details
Complete all the Daily Missions to obtain a 3 Dices.
Based on the rolled Dice, you'll move.
Based on the square landed, you'll receive rewards!
Every time you pass the Starting Point, you'll receive an additional Dice!

Reward Details
| | | |
| --- | --- | --- |
| Rank | Item Name | Quantity |
| Complete | Double Dice | 1 |
| B | Ceara's Fatigue Potion (Binding) | 3 |
| C | Ceara's Fatigue Potion (Binding) | 1 |
| C | Ceara's Fatigue Potion (Binding) | 1 |
| B | Ceara's Fatigue Potion (Binding) | 3 |
| A | Goddess Grace (Binding) | 3 |
| C | Ceara's Fatigue Potion (Binding) | 1 |
| C | Ceara's Fatigue Potion (Binding) | 1 |
| B | Ceara's Fatigue Potion (Binding) | 3 |
| C | Ceara's Fatigue Potion (Binding) | 1 |
| C | Ceara's Fatigue Potion (Binding) | 1 |
| S | Damascus Steel (Binding) | 1 |
| C | Ceara's Fatigue Potion (Binding) | 1 |
| C | Ceara's Fatigue Potion (Binding) | 1 |
| B | Ceara's Fatigue Potion (Binding) | 3 |
| C | Ceara's Fatigue Potion (Binding) | 1 |
| C | Ceara's Fatigue Potion (Binding) | 1 |
| A | Goddess Grace (Binding) | 3 |
| C | Ceara's Fatigue Potion (Binding) | 1 |
| C | Ceara's Fatigue Potion (Binding) | 1 |
| B | Ceara's Fatigue Potion (Binding) | 3 |
| C | Ceara's Fatigue Potion (Binding) | 1 |
| C | Ceara's Fatigue Potion (Binding) | 1 |
| A | Goddess Grace (Binding) | 3 |
| C | Ceara's Fatigue Potion (Binding) | 1 |
| C | Ceara's Fatigue Potion (Binding) | 1 |
| B | Ceara's Fatigue Potion (Binding) | 3 |
| C | Ceara's Fatigue Potion (Binding) | 1 |
| C | Ceara's Fatigue Potion (Binding) | 1 |
| S | Damascus Steel (Binding) | 1 |