Wardrobe
You can access all features that change your character's appearance through the Wardrobe.
Click the Avatar menu icon within the game and you will be taken to the Wardrobe immediately.
■ Wardrobe Areas
1. Fitting Room (Preview & Purchase)
This is the first area you see when you enter the Wardrobe. You can try on Avatar Shop items such as Hair, Inner Armors, Lenses, Ornaments, etc. and purchase them.
You can also experience a wide range of outfits using the Outfit Simulation feature.
2. Wardrobe Skills
You can collect Wardrobe Skill points by obtaining various Avatar items such as Outfits, Backs, Tails, Objects, etc., and you can use those points to learn various Wardrobe Skills that will aid in customizing your character.
3. Appearance Management
If you own the Add Appearance Preset Slot Wardrobe Skill, then you can save appearances and load them later.
4. Ampoule Crafting Area
If you own the Wardrobe Skill related to Ampoule Crafting, you can use empty Dye Ampoules to craft ampoules of various colors.
5. Dye Shop
You can use Dye Ampoules you own to dye equipped equipment or outfits with those colors.
Dyeing equipment costs a set amount of gold, but you may not select colors or dye parts.
Fitting Room (Preview & Purchase)
The Wardrobe merge update has made the original Avatar Shop, Outfitter Shop, and Wardrobe Simulation Area all available within this single, new Wardrobe area.
Check out the Fitting Room (Preview & Purchase) for yourself!
■ Fitting Room (Preview & Purchase) Main Feature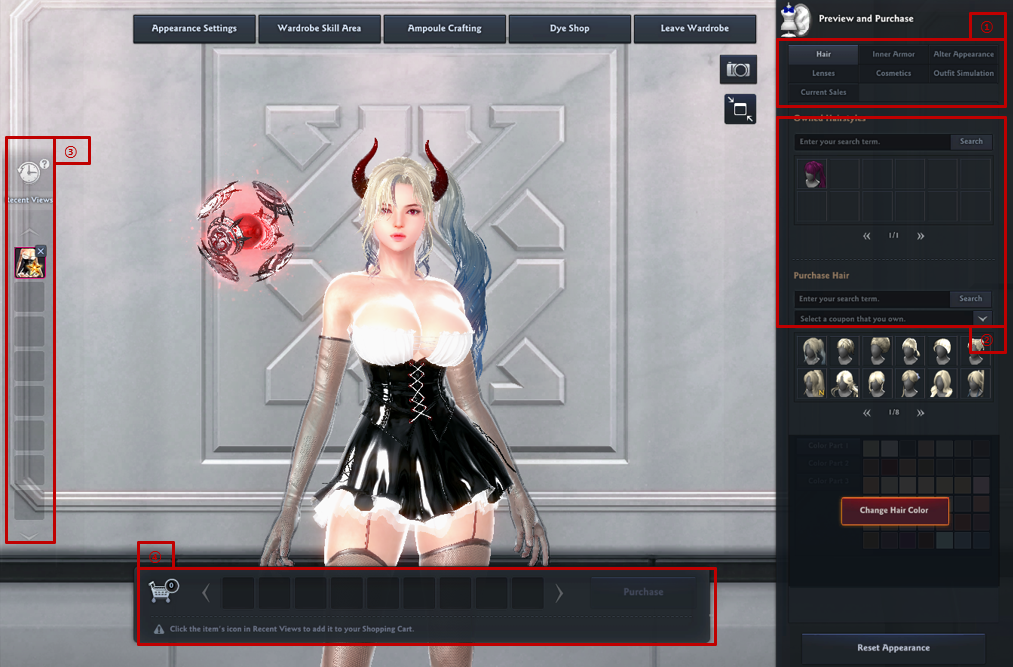 [1] Access this category to use all of the previous Avatar Shop, Outfitter Shop, and Wardrobe's Simulation Area features!
- (Old) Avatar Shop, Hair, Inner Armor, Alter Appearance, Lenses, and Ornament categories
- (Old) Outfitter Shop and Current Sales categories
- (Old) Simulation Area: Outfit Simulation category
[2] You can search which Avatar Accessories your character currently owns, as well as ones you wish to purchase.
[3] You can review the list of Avatar Accessories your character has tried on, and you can click the items you wish to purchase to move them to the Shopping Cart.
[4] You can review the items within your Shopping Cart via Recent Views, and you can click Purchase to proceed with the purchase.
 ■ Purchasing Items
※ This guide will use hairstyles to demonstrate how to make a purchase.
[1] Select the item category that you want to purchase (aside from the Outfit Simulation category).
[2] Click the item to preview your character's appearance with the item equipped. The item you previewed will be displayed on [4]'s Recent Views list.
The Recent Views list will display the item that you have most recently tried on within each category.
For example, if you tried on Neamhain's Long Curls in the hair category and then tried on Twin Braids, only Twin Braids would appear in Recent Views.
[3] If you have decided on the item you want, you can set detailed dye options as well.
If you change the dye colors of equipped items, the changes will be reflected on [4]'s Recent Views immediately as well.
[4] If you have finished setting detailed options, you can click the desired item in Recent Views to place it in your Shopping Cart.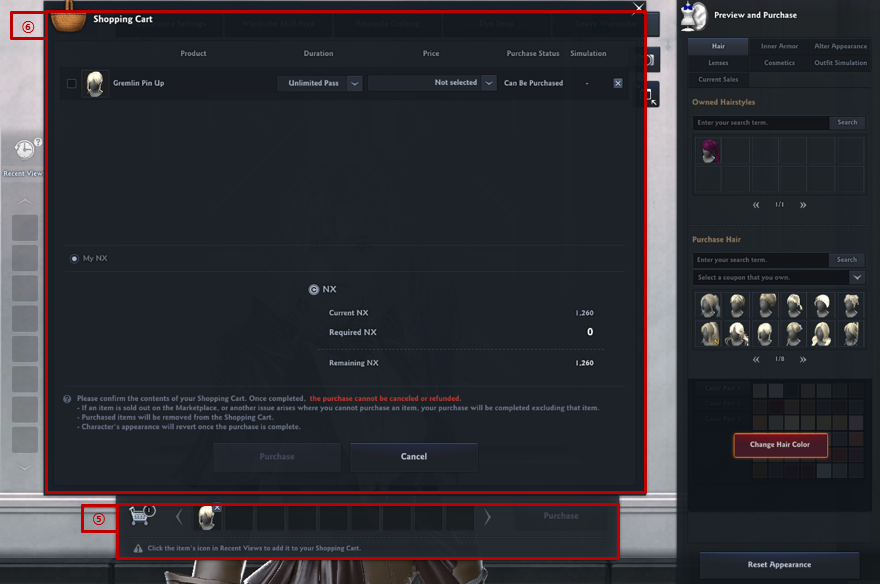 [5] The item in Recent Views will be moved to the Shopping Cart. Your character's display will revert back to its previous state before trying on anything.
Clicking Purchase will load the final purchase window [6]. There, you can finish your purchase using NX or coupons.
You can no longer change detailed options once the item is in the Shopping Cart. If you would like to change those options, you will have to start over from the stage [2] again by deleting the item from the Shopping Cart.
※ If an item is in Recent Views, clicking Purchase on [5] will display the following message:
Please review Recent Views to ensure you have added all desired items to the Shopping Cart.
If you confirmed that the item in [5] is what you wish to purchase, click Confirm to move to [6]'s purchase window.
[6] If you own Permanent Coupons, etc., you can select them from this screen. Select the method of purchase and then click Purchase to complete the transaction.
※ Items purchased from the Wardrobe will not be sent to your Storage Chest. Instead, they will be sent to your NX Storage Chest immediately, and they cannot be returned or refunded.
Please ensure that details such as dye colors are correct, and specifically check if your coupons are applied before clicking the purchase button! Otherwise, your purchase might be finalized in a way you did not intend. This can include accidentally using NX instead of Permanent Coupons.
 ■ Using Outfit Simulation
Aine's Recommended Picks feature, which lets you simulate the possible outfits in the Crystal currently for sale, has been added.