In October of 2010, Vindictus was released, setting off a seven year journey filled with new characters, new threats and new outfits, complete with ever-shortening skirts. Our latest update arrives with a new special battle, new features and a series of special events and sales to celebrate Vindictus' 7th anniversary!
New Special Battle: Desert Contract
We have a new Special Battle for you this month, as Commander Ikrium and Raiding Party Captain Larken join forces to tear the heroes of Vindictus apart!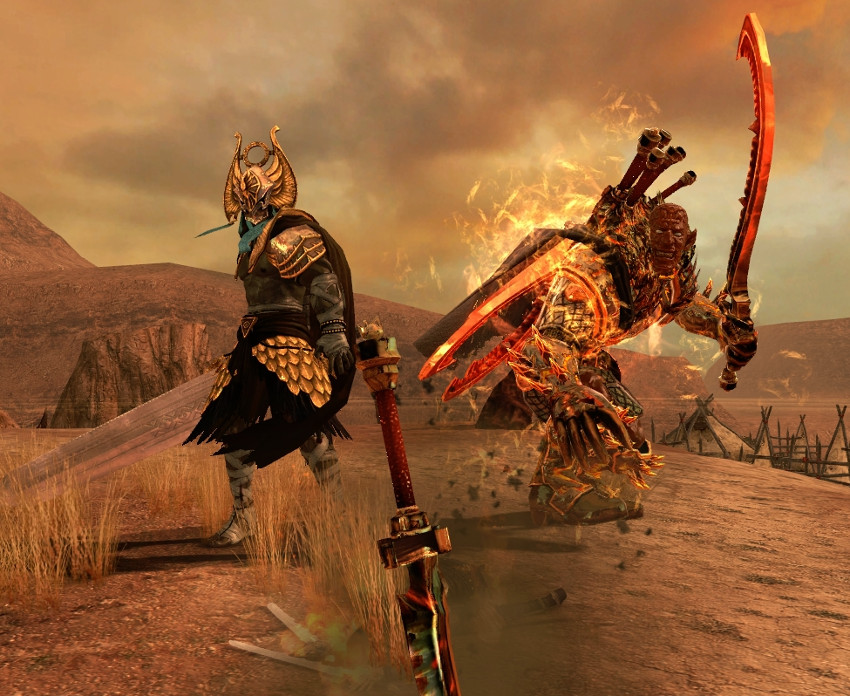 Battle against the duo as they use their powerful array of ranged and melee attacks to keep their foes off-balance. Strike them down and claim your rewards, including Abomination's Essence, Eochaid's Essence, Dullahan's Essence and more! You can complete this special dungeon once per day until our next update.
---
Goddess' Guidance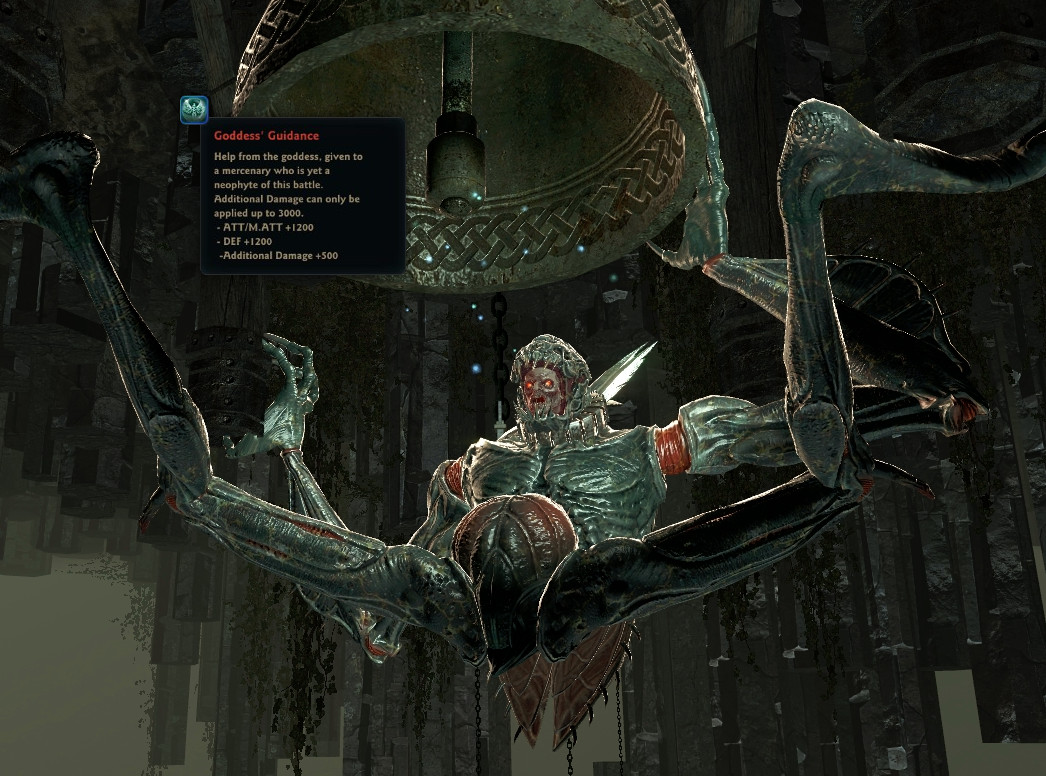 Season 3 is filled with cunning foes, powerful monsters, lethal challenges for all who step towards Ben Chenner. In order to help mercenaries get a handle on the challenges in Season 3's raid battles, the Desert Contract update comes with a special Buff called Goddess' Guidance. This buff grants large boosts to ATT, M.ATT, DEF and Additional Damage, but only for the first time they complete each Raid battle's story mission, plus the first 10 completions of the repeatable raid battles.
---
Seal of Bravery Shop Update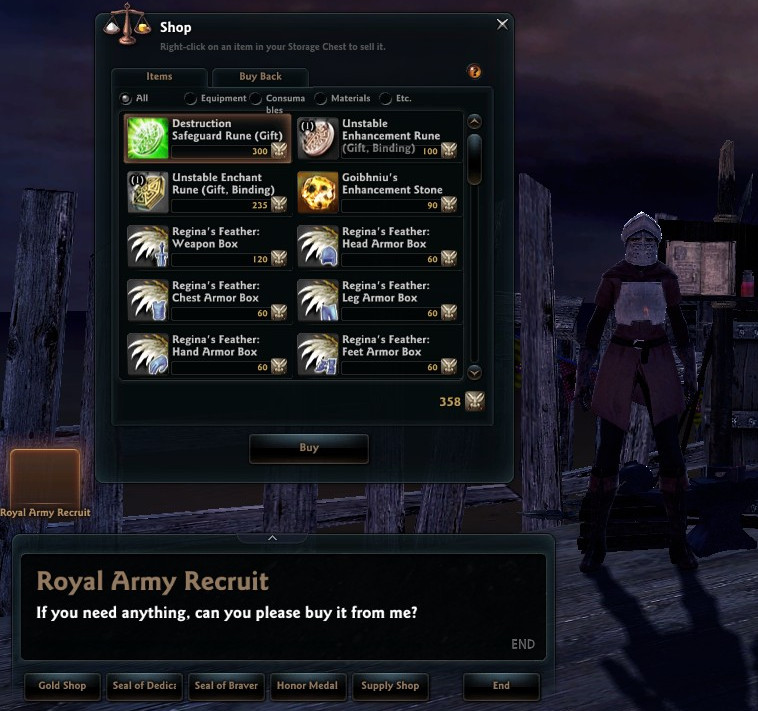 We're updating the Seal of Bravery shop with three items to help you upgrade your equipment more reliably:
90 Seals of Bravery: Goibhniu's Enhancement Stone, which increases the Enhancement Success Rate by 10%. Cannot be used on +15 equipment or higher, cannot be traded.
100 Seals of Bravery: Unstable Enhancement Rune, which protects equipment from being damaged or destroyed by a failed Enhancement. Rune is consumed whether the Enhancement fails or succeeds. Cannot be traded, cannot be used to enhance to +11 or higher, can purchase a maximum of one Unstable Enhancement Rune per week.
235 Seals of Bravery: Unstable Enchant Rune, which protects equipment from being damaged or destroyed by a failed Enchant. Rune is consumed whether the Enchant fails or succeeds. Cannot be traded, can purchase a maximum of one Unstable Enchant Rune per week.
---
Happy Halloween!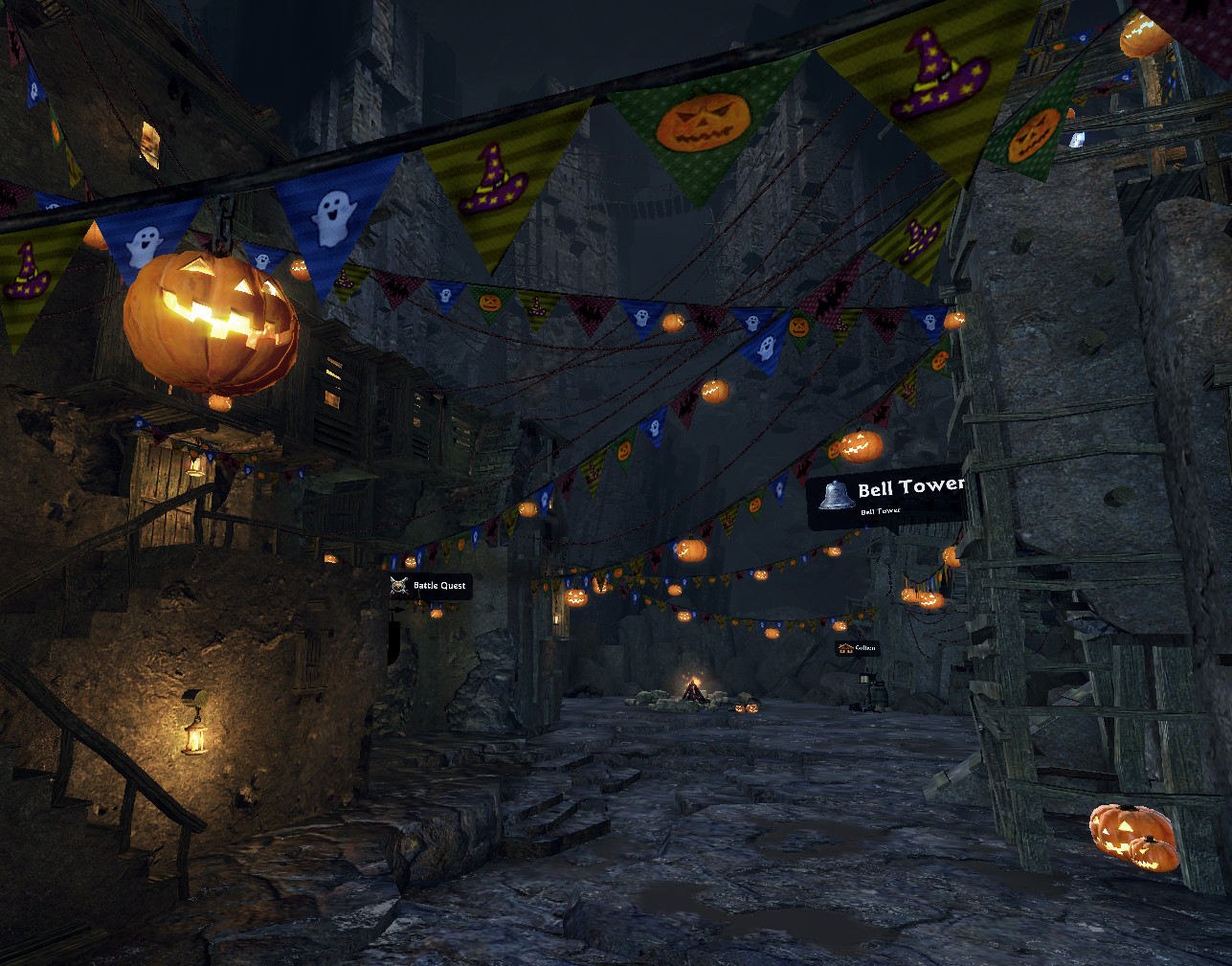 All Hallow's Eve is but a month away and the citizens of Colhen, Rocheste and even Berbhe have decorated their homes early. Take a peek at the countless jack-o-lanterns on display and enjoy the sights!
---
7th Anniversary Sales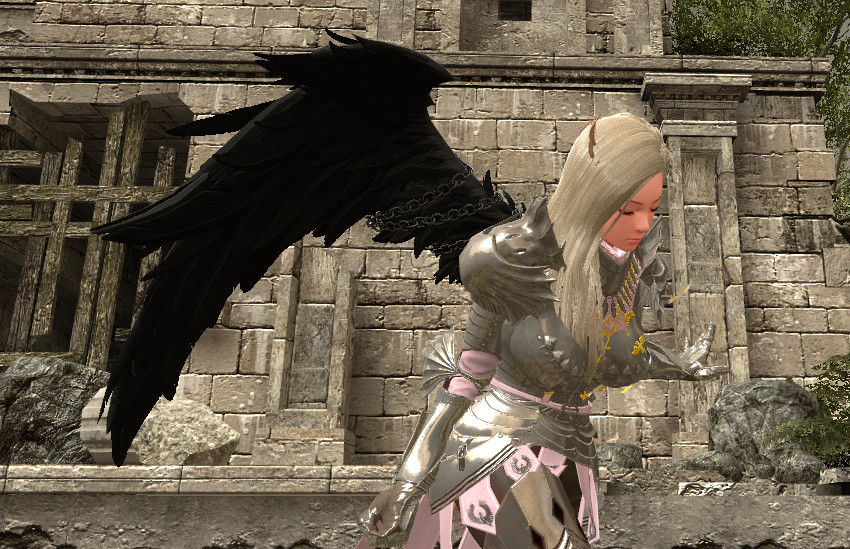 We have multiple new packages coming for you, with cosmetic updates, dyes, runes, Limited outfits, something for everyone... including a special coupon that you can exchange for special items, featuring the Fallen Angel Wings. Check it all out below!
See all the 7th Anniversary deals at the 7th Anniversary Sale page!
---
7th Anniversary Events
October marks 7 years of Vindictus, featuring countless monsters slain, weapons crafted, missions completed and breastplates torn to shreds. We're not ones to let our anniversaries go without comment as we launch a pair of big events to celebrate 7 long years with a powerful Epaulet and some quality rewards for beating Fomor faces in!
Check out the events for the 7th Anniversary at the 7th Anniversary Events page!
---
Bug Fixes and Game Improvements
General
Fixed an issue where players were unable to control their character upon leaving the Marketplace after using the 'level search' function
Fixed the issue of appearing as a rag doll (corpse) to other players upon logging on for the first time after creating character
Fixed an issue of where low level users can also use the ferry upon chitchatting with the Ferryman
Fixed an issue where the character disappeared when players departed via Quick Battle in some places
Fixed an issue where players could use the expired Destruction Safeguard Runes
Fixed an issue where Neamhain's cutscene stops intermittently when hitting Neamhain as the final cut scene plays in Redeemers Battle
Fixed an issue where players were unable to leave a battle
Fixed an issue where pets did not disappear in Redeemers
Fixed an issue where players were able to change weapons after pressing the ready/departure button on the boat
Fixed an issue where a bonus departure coupon was required when doing Redeemers with a party
Fixed an issue where players would spawn at the entrance of Rocheste after departing from the season 3 'boat' in Rocheste
Fix the character sporadically freezing when completing Pestis's grab pattern minigame and released
Fixed an issue players could gather after forfeiting battle
Fixed the Pier not being ready when the host quickly goes on a boat after battle clear
Fixed an issue where the character stays transformed when releasing the transformation in grappled/lifted status
Fixed an issue where a cutscene could not be skipped upon attempting a battle in a non multi-process battle
Fixed issue where character would freeze when players continued pressing the directional key when being affected by grab
Fixed an issue where the Waking Stone did not appear in the Skill Awakening tutorial
Fixed an issue where the weapon stats changed by changing the equipment tab during the departure greeting on the boat
Fixed an issue where the Underground City Charles Race reward was not being distributed upon using Multi-process
Fixed an issue where event cores with no count restrictions could not be obtained
Fixed an issue of distributed items not appearing when failing during story item distribution
Fixed an item retrieval issue for the Skill Awakening Tutorial
Fixed an issue where Dullahan did not appear in the battle end cutscene after receiving the Dullahan story
Fixed an issue with the Song of the Plains story
Fixed an issue of memory invalidation for delayed texture loading
Fixed an error with the description of Goibhniu's Enhancement Stone
UI
Fixed the portrait area of the character information window
Fixed an issue of enchantable items being displayed as locked items upon attempting enchant
Shared storage can now be opened from the inventory NX tab
Fixed an issue where the log order displayed incorrectly for guild storage
Newly acquired items will automatically equip to the expanded quickslots if expanded quickslots are enabled
Fixed the issue of the UI closing without warning when players click outside the UI while using an enchant elixir
Fixed an issue of the Colhen minimap building list displaying abnormally
Fixed an issue of equipped items not appearing in the enchantable equipment list
Fixed an issue of recipient list's order being incorrect in Mailbox
Fixed an issue where when players drag-and-drop an item into the expanded quick slot, it appears to vanish when it's actually still there
Fixed an issue where the Redeemers battle's party number was displayed as 0
Character Stat Ranking - Each obtained title now grants 5 ranking points
Character Stat Ranking - Each point of Critical Resistance now grants 50 ranking points
Added the system tab to the basic chat tab list
Character stat ranking - fixed Arisha being calculated based on physical attack when counting the ranking
Equipment can now be compared via Shift during battle
Fixed an issue of the Battle Retry button appearing upon forfeiting a Quick Battle Solo Departure battle
Fixed an issue of the success/battle completion window launching together in the Alban Festival final stage
Fixed an issue where upon switching the Quick Slot pages, the glow effect and/or other Quick Slot functions were not operating properly
Fixed an issue where the Departure UI will crash when there were 8+ members in a party
Fixed an issue where the fail window doesn't launch at Stage 20 of Alban Festival Spear Master
Fixed an issue where the retry button did not launch in Ein Lacher
Fixed an issue where another player's item acquisition system message displayed like one's own
Fixed an issue where the skill tooltip did not display upon progressing to next story
Skill window now launches when there is a learnable skill during story progression mode after battle
Removed hide function from story UI when it is the main story
Switched the location of the Return to Town and Repair Equipment buttons in the Story Progression Mode link window
Graphics
Fixed an invisibility issue upon entering Berbhe for the first time from the character selection screen
Fixed an issue where players would appear invisible to other players after changing channels
Gameplay
Fixed an issue where the log order displayed incorrectly for guild storage
Fixed an issue where enchant scroll icons obtained from packages appeared as the pre-Rise update icons
Removed VIP Capsules from Character Growth Goals Reward
Spear of Stigma and Trail of Light skill changed to not disappear when hitting terrain
Damage boost effects changed to not apply to path skills
Increased Abyssal Arena EXP and added Quick Battle participation
Removed The Five Spider Brothers duplicate Bonus Mission
Fixed an issue where Full Force activated in Ein Lacher
Changed the location of a Luminary in Ben Chenner Trailhead
Transformation deactivation delayed while moving via swinging Hooks
Fixed an issue where the monsters did not die by falling in the Misty Summit No Man's Mine, Crumbling Mine
Fixed an issue of battle ending after 10 minutes of logging back into battle
Fixed an issue of the follow-up/next story not progressing upon progressing from the Road to Rocheste
Added HP potion & elixir crafting stories
Delia
Changed Delia's Vigor effect so it can be synced for the weapon's visibility
Evie
Fixed a direction issue upon casting Evie's Lightning Bolt
Hurk
Fixed an issue of the Greatsword Hurk's 0-hit Smash attack not properly working
Karok
Fixed issue of Karok's 'Standby Clash' not properly operating
Sylas
Fixed an issue with Sylas' Extinction Roar targeting not targeting properly and missing
Fixed an aiming issue with Sylas' Phantom Dart