Grimden 
Once a Young Warrior, Now a Merciless Assassin
Grimden was once a wanderer, traveling around the world spreading the goddess' love.
One day he was kidnapped by a mysterious man who appeared out of nowhere.
There, a strange man lead Grimden down a dark path, a pitch black path that shone no light.
Grimden was then reborn, into the merciless, deadly assassin he became today. He knows no mercy, only pain from the past.
This deadly assassin strikes swiftly along with his cloning abilities, making his attacks unpredictable. Make sure you hold your breath, as Grimden will strike you within the blink of an eye. There won't be enough time for you to plan your next move against this deadly assassin.
Grimden Registration Event
| | |
| --- | --- |
| Start Date | End Date (Edited) |
| November 13th (After Maintenance) | December 10th (16:59:59 PST) |
Grimden is finally coming to Vindictus Mercenaries, and he'll be joining the Twelve starting this December 11th, 2018 PST! Explore the darkest paths with Grimden by signing up on the 'Grimden Registration Event' now and claim your exclusive Grimden rewards as well on the 11th!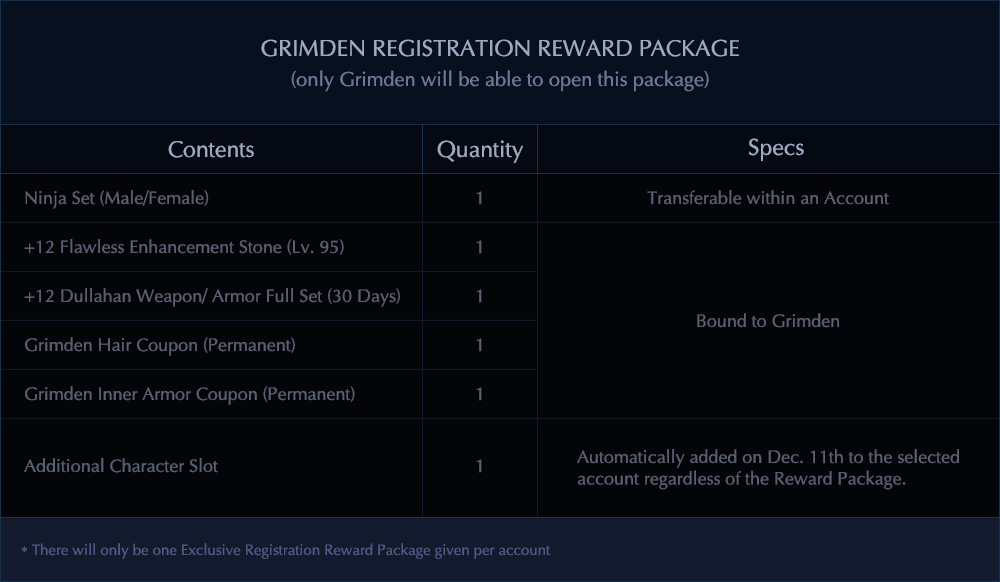 Reward Acquisition Flow:

Overall Caution:
You may only select one character per account.
The time displayed on the website is aligned with the in-game time UTC (+0).
The Exclusive Registration Reward Package will be added to the character of your choice.
Your character selection cannot be adjusted once you've confirmed your selection.
There may be up to 10 minutes of delay when loading newly created characters/accounts information.
If your character list is not loading, please try reloading the page.
If there are any additional issues in regards to signing up for the 'Grimden Registration Event,' please contact our CS Team: https://support-vindictus.nexon.net/hc/en-us