EIRA Registration
EIRA: The Void Witch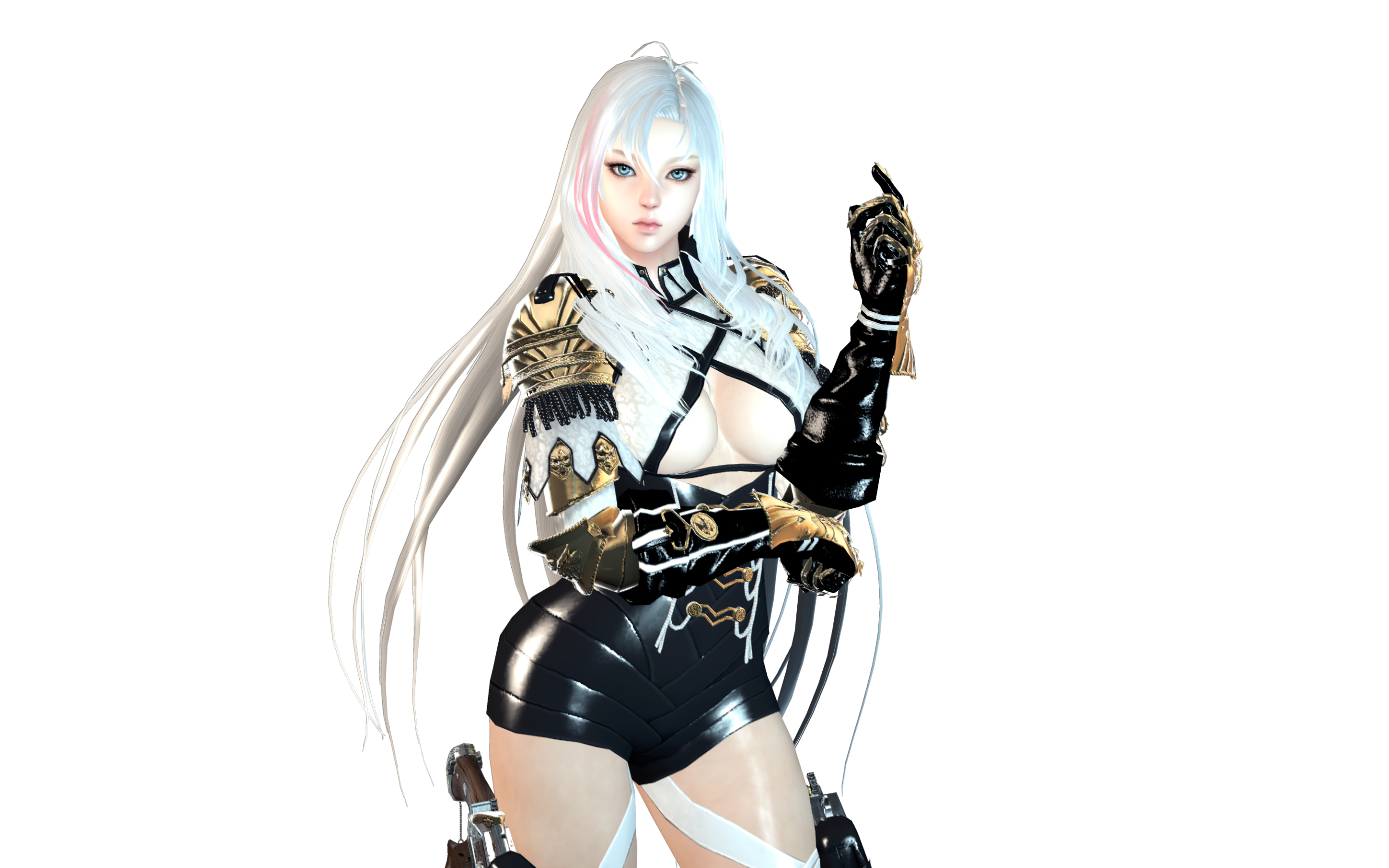 Eira, the master of revolver and dimensions can bend space at her will. She stalks the battlefield with her Mana Revolver, seeking her long lost sister, Arisha. Eira's power to open portals and swiftly shift back and forth from different dimensions, allows her to attack and evade from anywhere and everywhere.
Eira Registration Event
| | |
| --- | --- |
| Registration Start | Registration End |
| March 26th (After Maintenance) | April 28th (23:59:59 PST) |
Eira, the Void Witch, will be joining the thirteen heroes this April 30th, 2019 (PST). Glide through different dimensions through Eira's portals and enjoy the truly unique, our fourteenth hero, EIRA. Make sure to sign up for EIRA Registration Event and claim all the EIRA exclusive rewards!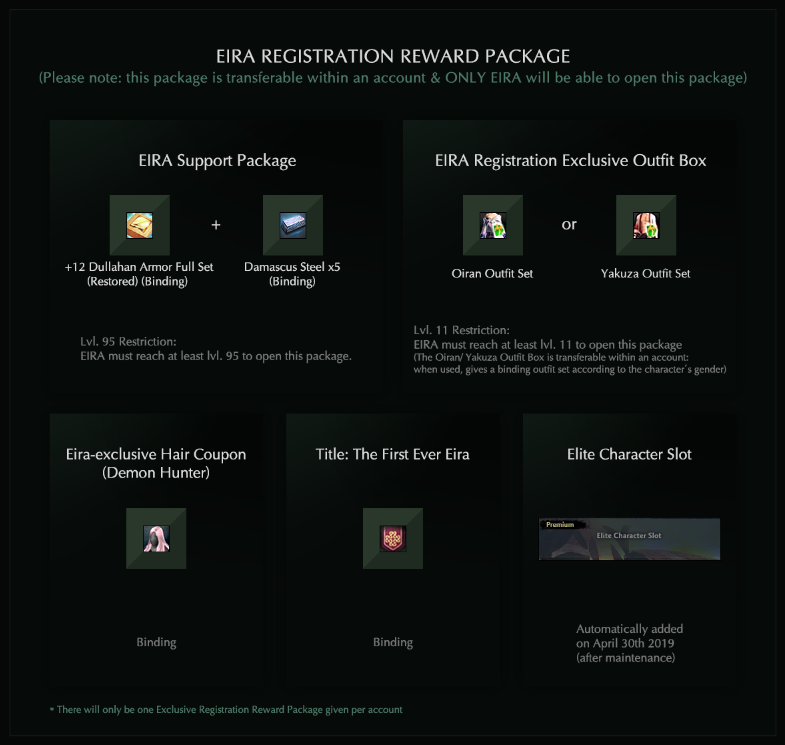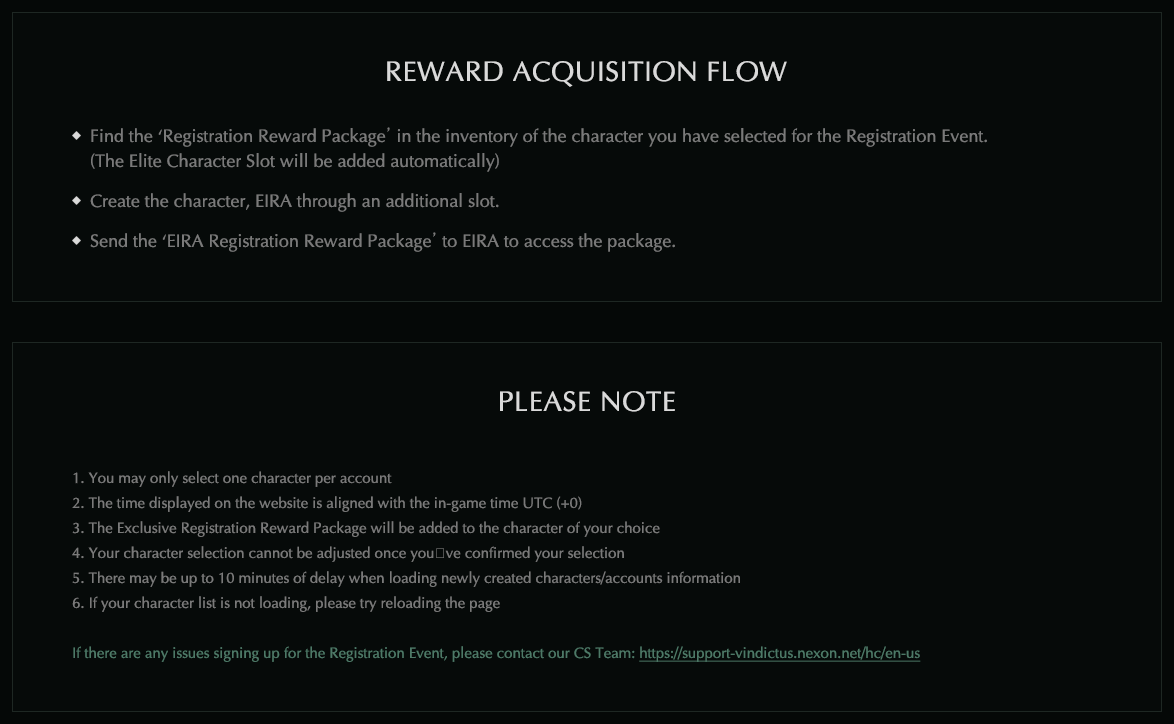 Eira Warm-Up Attendance Event
| | |
| --- | --- |
| Event Start | Event End |
| March 26th (After Maintenance) | April 29th (Before Maintenance) |
Once you're done signing up for the EIRA Registration Event, jump right into the game and get ready for Eira's arrival with all the overflowing rewards from the Eira Warm-Up Attendance Event. Also, make sure you pay close attention to EIRA EXCLUSIVE item give out days! And don't miss out!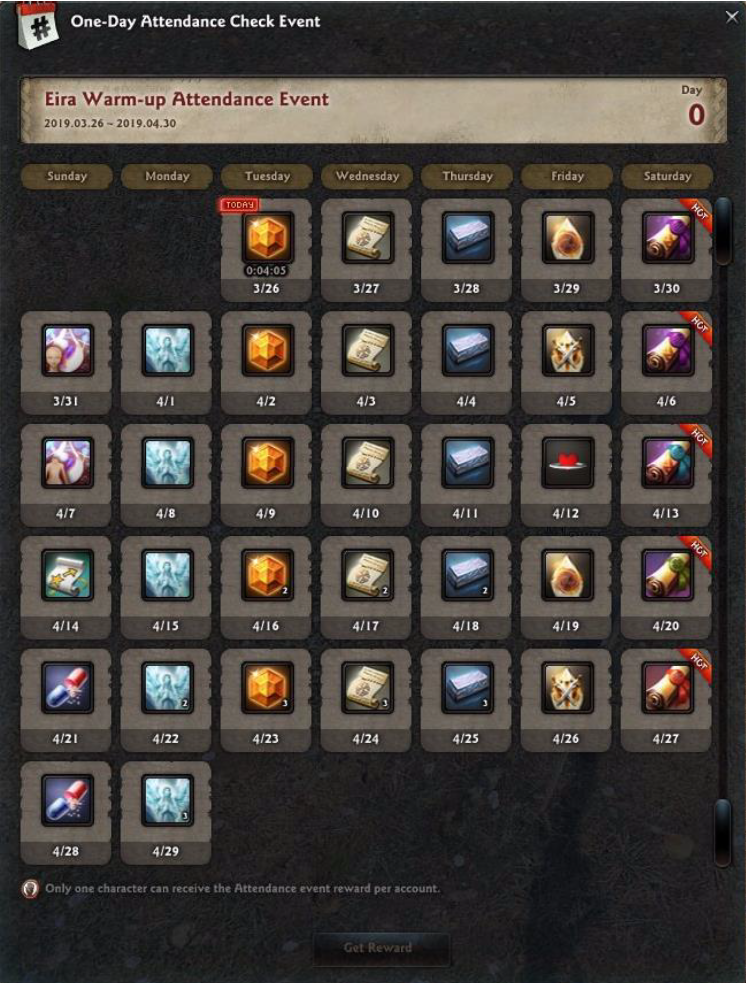 Day
Date
Item Name
Quantity
Notes
Tuesday
3/26
Divine Blessing Stone (Gift)
1
-
Wednesday
3/27
Departure License (Event)
Thursday
3/28
Damascus Steel (Binding)
Friday
3/29
Mysterious Shard Grade 1
Not tradable. No expiration.
Saturday
3/30
Permanent Makeup Coupon (Eira Exclusive)
Can be traded within the account. Expires on 5/14/2019
Sunday
3/31
Reilly's Face Oil (Gift)
Monday
4/1
Goddess Grace (Gift)
-
Tuesday
4/2
Divine Blessing Stone (Gift)
Wednesday
4/3
Departure License (Event)
Thursday
4/4
Damascus Steel (Binding)
Friday
4/5
Abyssal Shard Grade 1
Not tradable. No expiration.
Saturday
4/6
Permanent Body Tattoo Coupon (Eira Exclusive)
Can be traded within the account. Expires on 5/14/2019
Sunday
4/7
Reilly's Body Oil (Gift)
Monday
4/8
Goddess Grace (Gift)
-
Tuesday
4/9
Divine Blessing Stone (Gift)
Wednesday
4/10
Departure License (Event)
Thursday
4/11
Damascus Steel (Binding)
Friday
4/12
Shining Heart Halo (Outfit)
Saturday
4/13
Permanent Face Tattoo Coupon (Eira Exclusive)
Can be traded within the account. Expires on 5/14/2019
Sunday
4/14
Quality Booster Coupon (+1 Star)
Not tradable. Expires on 5/14/2019
Monday
4/15
Goddess Grace (Gift)
-
Tuesday
4/16
Divine Blessing Stone (Gift)
2
Wednesday
4/17
Departure License (Event)
Thursday
4/18
Damascus Steel (Binding)
Friday
4/19
Mysterious Shard Grade 1
1
Saturday
4/20
Permanent Hair Coupon (Eira Exclusive)
Can be traded within the account. Expires on 5/14/2019
Sunday
4/21
AP 1000 Capsule (ID Shareable)
Can be traded within the account. No expiration.
Monday
4/22
Goddess Grace (Gift)
2
-
Tuesday
4/23
Divine Blessing Stone (Gift)
3
Wednesday
4/24
Departure License (Event)
Thursday
4/25
Damascus Steel (Binding)
Friday
4/26
Abyssal Shard Grade 1
1
Can be traded within the account. No expiration.
Saturday
4/27
Permanent Inner Armor Coupon (Eira Exclusive)
Can be traded within the account. Expires on 5/14/2019
Sunday
4/28
AP 2000 Capsule (ID Shareable)
Can be traded within the account. No expiration.
Monday
4/29
Goddess Grace (Gift)
3
-