Sale Period: April 30th - June 4th
Exchange Shop: April 30th - June 11th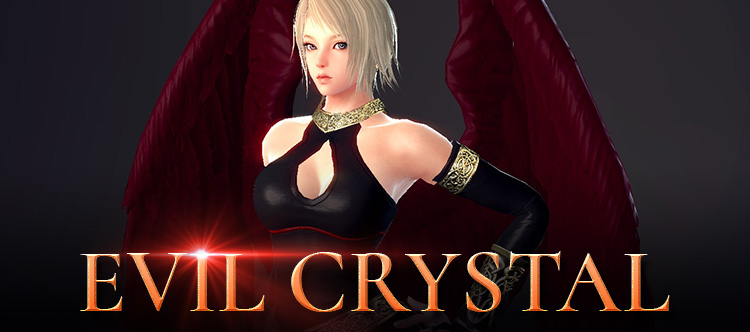 Along with the update of Eira, we've brought in Evil Crystals for just a limited time! These crystals are said to hold deep darkness within that grants the power of chaos to the one who obtains it. However, what you may also find are extraordinary outfits of heroes like the ones below! Challenge one at the Cash Shop today!
Evil Crystal
1,900 NX (1)



20,900 NX (11)


19,000 NX (11)



104,500 NX (55)


95,000 NX (55)
[Exchange Shop]

Macha Wings
Special Macha Set
Special Demon Knight Set
Special Demon Maiden Set
Special Nature's Breeze Set
Special Steel Officer
Special Hardline Officer
Below are some of the items you might find in an Evil Crystal:

Rank
Item
Quantity
Required
Coupons
Trade
Limit
Trade
Spec
S
Macha Wings
1
450
None
Allowed
Once
Special Macha Set
Special Demon Knight Set
Special Demon Maiden Set
A
Special Nature's Breeze Set
400
Special Steel Officer
Special Hardline Officer
B
VVIP Service Package
(30 Days, Gift)
100
UID 5
Times
Bind
Premium Enhancement
Rune (Gift)
80
Enhancement Rune (Gift)
30
C
Divine Blessing Stone
30
10
None
Max Durability
Increase Potion (Gift)
4
2
Goddess Grace
5
2
Merc Recovery Potions (Gift)
20
2