2019-06-04 1:00 A.M. PT Update:
Winner Announcement
1st Place
IGN: Salamandinay (NA) / FID: Yagamin
Reward: 50,000 NX + In-Game Title
Runner-Ups
| | | | |
| --- | --- | --- | --- |
| Emerthyst | Kotori | Karenda | NotMiul |
| Death-Gunner | Natsuki | ikevi | LoLoBooty |
| JynXi | XiaoMaou | Bobby9 | Sonnenlicht |
| Quinque | DOYOULIKEME | Veneratoria | Kazame |
Reward: In-Game Title
Thank you all so much for your participation in this event by making your very own Eira guidebook in your very own unique way and sharing it with the community! Some were so elaborate in both text and design that it was so awesome to read and see and we appreciate the time and effort you Mercenaries put into it! The Winner's guidebook will be published on our official website and facebook soon so stay tuned for the update! In-Game titles will all be distributed through the ongoing maintenance today. Thank you and see you on the next!
---
Event Period: April 30th - May 28th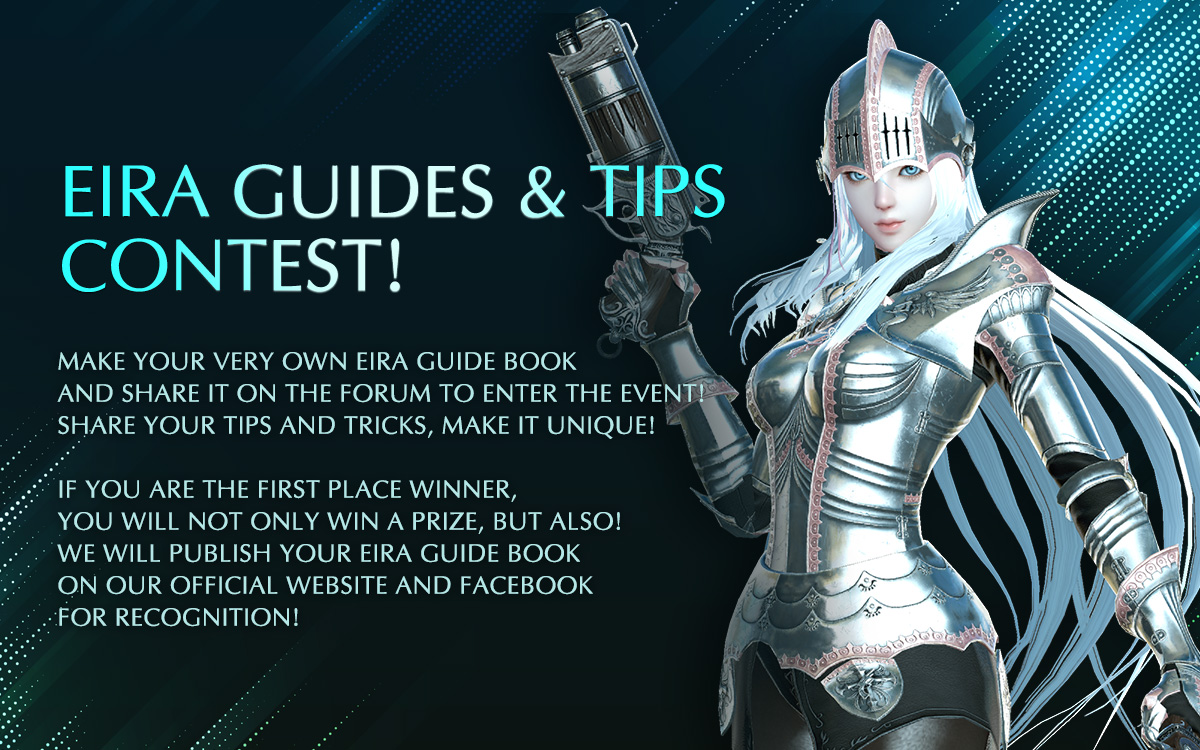 How-To-Participate
Within the event period, draft up and publish your version of 'Eira Guidebook' on our official Forum website. Do not spam!


All who publish an admissible 'Eira Guidebook' will receive a cool title in-game!


The 1st Place Winner will win 50,000 NX + In-Game Title!
Important Note:
Please add the CID you want the 'Title' in with your submission of Eira Guidebook.
The 'Title' is for 1 character only from your account.
You may choose a non-Eira character for the 'Title.'
Challenge Now & Collect Your Reward!