Labor Day Rapid Growth Event
Event Period: August 27th - September 24th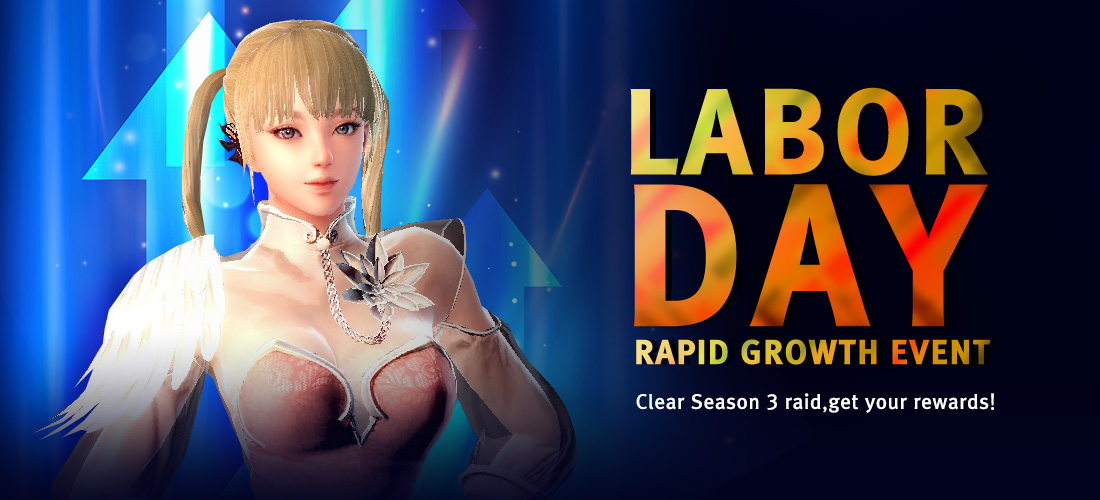 Happy Labor Day! To celebrate the annual celebration of Labor Day, we too, here in Vindictus, will give you event rewards upon your celebratory works! Celebrate the day by clearing one of the Season 3 raids below and get a [Labor Day Celebration Ticket] for rewards! Get into the spirit now!

[List of Season 3 Raids]
Surprise Attack, Devil's Tower, Red Stigma, Distorted Truth, Iron Fist, The Prince of Failure, The Missing Soul, Denizen of the Deep, Under the Surface, Agony and Despair, Shining Lugh, Radiance, Light and Shadows, Twists in Time, Island Ruins, Corrupted Queen, Garden of Tears, Temple of the Fallen Moon, Grave of Madness, and Brilliant Lugh.


[Exchange Shop]
Item Name
Quantity
Coupon Amount
Number of Exchanges
+13 50% Brilliant Enhancement Stone (Lv.95, Gift)
1
60
CID x1
Rare Legendary Weapon Check Destiny Box
60
CID x2
Premium Enhancement Rune (Binding)
50
CID x1
Restoration Scroll (50%)
40
CID x1
Mysterious Shard Grade 1
40
CID x3
Unstable Enchant Rune (Binding)
35
CID x5
Unstable Enhancement (Binding)
28
CID x5
Damascus Steel (Binding)
22
CID x5
Paradise Cube
12
CID x3
Title: Labor Day Reveler
10
CID x1
Goddess Grace (Binding)
5
CID x10
Merc Recovery Potion
1
N/A
The coupons and all rewards are bound to the character. Some item exchanges are counted per CID/UID.
Paradise Cube: A box in which you put in a Heavenly/Godly/Paradise material to get a random quantity between 2-10 of the same item.
Royal Army's Newest Threat Event
Event Period: August 27th - September 10th
As notified on the previous update post, a new threat of Royal Army battles have arrived to Vindictus today. Therefore, to support your challenges against these new threats, we're bringing in some perks for your accomplishments.
To celebrate the release of the new Royal Army battles, we will give you 1 additional Royal Army Departure as a perk.


Minimum stats have been increased during the event as follows:



| | | |
| --- | --- | --- |
| Stat | Previous | Event |
| ATT | 31000 | 34000 |
| Magic ATT | 31000 | 34000 |
| DEF | 15000 | 18000 |
| Additional Damage | 2500 | 3000 |





Drop rates for the Mysterious Glass Bottle (Lv. 80) have increased for the event.


Added chance to drop the Airtight Premium Enhancement Rune item.

Can be traded once before opening. Bound to character after opening.



During the event, 1 bonus 'Seal of Bravery' item will be dropped from Royal Army battles.

The Seal of Bravery is not affected by the daily Seal limit.
Weekend Hot-Time Event
Event Period: August 27th - September 24th
Weekend's going hot again for only a limited period of time! Check out what you can receive for each weekend schedule below and don't miss out on the freebies it gives!
8/31 (Sat.): Additional Departure +1
9/1 (Sun.): 2x AP


9/7 (Sat.): Core +1
9/8 (Sun.): 2x EXP


9/14 (Sat.): Additional Departure +1
9/15 (Sun.): 2x AP


9/21 (Sat.): Core +1
9/22 (Sun.): 2x EXP