Event Period: August 27th - September 24th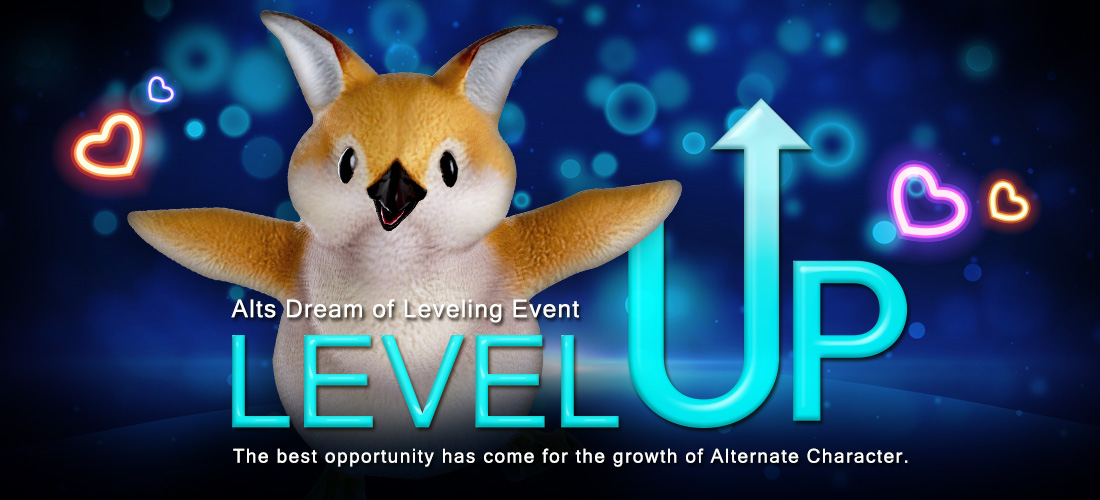 The best opportunity to level up your alternate characters is finally here in Vindictus with a whole benefits package into an event for just a limited period of time! Check out the details below, level up your alternate characters, and receive free level-up accomplishment rewards right now!

How to Participate
You are able to receive the story, [Alts Dream of Leveling], from the Strange Traveler at Colhen Inn.


If you keep progressing through the story with a character of Lv.70 or below, you'll get a [Kitchen Sink Level-Up Box].


Once you open this box and reach certain levels listed below with the following character, you will receive a [Level-Up Box] that will give you various items and rewards that'll help your character grow and play to the next level!


Important Note:
Two characters can participate, but only one at a time. The first character can be below level 70.
Once the first character reaches level 100, they will receive the [Bigger Kitchen Sink Level-Up Box], which can be mailed to your second alt. below level 50.
Please note, the [Bigger Kitchen Sink Level-Up Box] can ONLY be opened by a character UNDER level 50, so plan accordingly.

For more details on the contents of each Level-Up Box, please see below.
[Level-Up Box Contents and Specs]
[Kitchen Sink Level-Up Box] Contents

[Lv. 50 Box] x1
AP 5000 Capsule (Gift) x1
Fine HP Potion (Gift) x10



[Lv. 50 Box] Contents

[Lv. 60 Box] x1
Divine Blessing Stone (Gift) x3
100% Completion EXP Boost Potion (1 Hour, Binding) x1 [Expiration: Immediately after the event end date]



[Lv. 60 Box] Contents

[Lv. 70 Box] x1
Fine HP Potion (Gift) x10
Goddess Grace (Binding) x3



[Lv. 70 Box] Contents

[Lv. 80 Box] x1
Unstable Enhancement Rune (Binding) x3
100% Completion EXP Boost Potion (1 Hour, Binding) x1 [Expiration: Immediately after the event end date]



[Lv. 80 Box] Contents

[Lv. 90 Box] x1
AP 5000 Capsule (Gift) x1
Divine Blessing Stone (Binding) x5



[Lv. 90 Box] Contents

[Lv. 95 Box] x1
Additional Departure Boost (7 Days, Binding) x1 [Expiration: Immediately after the event end date]
100% Completion EXP Boost Potion (1 Hour, Binding) x1 [Expiration: Immediately after the event end date]



[Lv. 95 Box] Contents

+12 Dullahan Armor Full Set



Type
Part
Enhancement
Prefix
Suffix
Quality
Notes
Dullahan
Hair
12
Memorable
Expeditionary
★★
Restored State (Cannot be enhanced until reforged)
Chest
Temporal
Stigma
Legs
Memorable
Expeditionary
Hands
Reinforced
Echoing
Feet
Reinforced
Echoing





[Lv. 100 Box] x1



[Lv. 100 Box] Contents

AP 5000 Capsule (Gift) x1
Damascus Steel (Binding) x10
[Bigger Kitchen Sink Level-Up Box] x1


Important Note:
[Bigger Kitchen Sink Level-Up Box] Contents

This will have the same sub-contents as the [Kitchen Sink Level-Up Box].
However, opening the [Lv. 100 Box] will not give a third box.



[Sprint Buff Details]

Any character at Lv. 89 or below!
Upon completing any battle, the Sprint buff will be applied.
The Sprint buff increases to up to 5 stages, the same way previous ones have.
[Alts Dream of Sprinting] Buff Specs:



Buff Stage
Max HP
ATT/M. ATT
Critical
ATT SPD
Acquisition Condition
Deletion Condition
Reset Time
Stage 1 Alts Dream of Sprinting
600
300
3
3
Obtained upon completing the first battle based on 7:00 A.M. UTC
Removed upon obtaining Sprint Stage 2
Every day at 7:00 A.M. UTC
Stage 2 Alts Dream of Sprinting
700
400
4
4
Obtained upon completing the second battle based on 7:00 A.M. UTC
Removed upon obtaining Sprint Stage 3
Stage 3 Alts Dream of Sprinting
800
500
5
5
Obtained upon completing the third battle based on 7:00 A.M. UTC
Removed upon obtaining Sprint Stage 4
Stage 4 Alts Dream of Sprinting
900
600
6
6
Obtained upon completing the fourth battle based on 7:00 A.M. UTC
Removed upon obtaining Sprint Stage 5
Stage 5 Alts Dream of Sprinting
1000
700
7
7
Obtained upon completing the fifth battle based on 7:00 A.M. UTC
Resets every day at 7:00 A.M. UTC