Event Period: September 24th - October 29th
Exchange Shop: September 24th - November 5th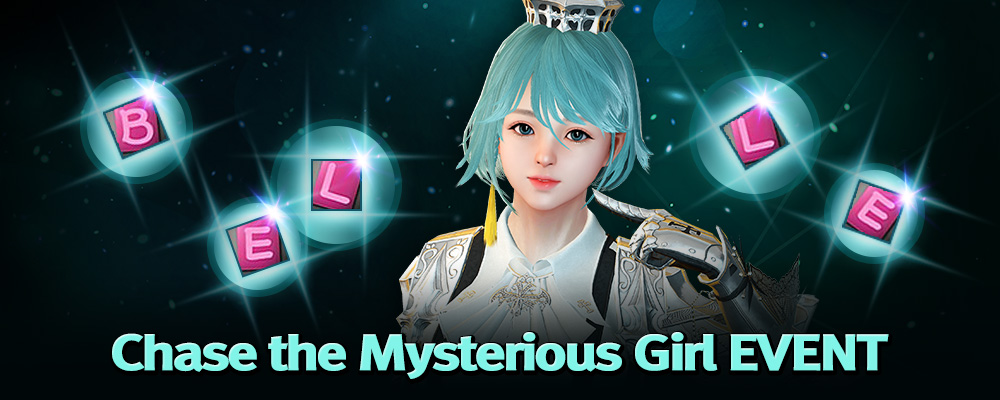 The long-awaited 15th new hero, Belle, has finally been revealed and everyone's hyped up about her coming to Colhen! Have you registered to see her yet? If not, click HERE to register to meet her on her arrival date now and receive exclusive gifts she gives! If or once you've done this, we've got a fun event for you to enjoy until she comes. It's called 'Chase the Mysterious Girl' event where you collect alphabet letters to her name through completing each task she requires and receive alphabets to exchange for an item of your choice at the exclusive Exchange Shop as a reward! Make the most of this event while you wait for the "Mysterious Girl" to arrive this October 29th! Enjoy!
Collect alphabet letters that comprise Belle's name.

B: Purchase for 1,000 Gold from the Strange Traveler (1/Day).
E: Remain logged in for 30 minutes to obtain 2 coupons (Max. of 6/Day).
L: Obtain 1 by clearing a level 30 or higher battle (Max. of 3/Day).



Use the Exchange Shop for each alphabet letter collected.

All rewards excluding 'Seal of Bravery' and 'Experimental Ampoules (Outfit, Clodagh) can be used until 12/31.
Belle-only items can be shared within the account and can only be used with the Belle character after Belle is released.
[Exchange Shop]
Items
Quantity
Coupon
Amount
Purchase
Limit
Properties
Belle: Storage Chest Expansion
Ticket (Permanent) Gift
1
9
1x per Account
Account Share
Belle: Permanent Makeup Gift
Appearance Alteration
Coupon (Gift)
Account Share (Shared Storage)
Clodagh's Experimental
Dye Ampoule (Empty)
5
2x per Account
Bound to Character
Items
Quantity
Coupon
Amount
Purchase
Limit
Properties
Belle: Challenger's Epaulet (30 Days) Gift
1
50
1x per Account
Account Share
Belle: Saint Nova Set Gift
Permanent Hair Coupon
Experimental Outfit Dye Ampoule (Empty)
30
2x per Account
Bound to Character
Items
Quantity
Coupon
Amount
Purchase
Limit
Properties
Belle: +13 Restorative Enhancement
Rune (Lv. 95 Armor) Gift
1
30
1x per Account
Account Share
Belle: Damascus Steel Gift
Permanent Body Tattoo Coupon
20
Seal of Bravery
3
No Limit
Bound to Character