Event Period: December 10th - January 28th, 2020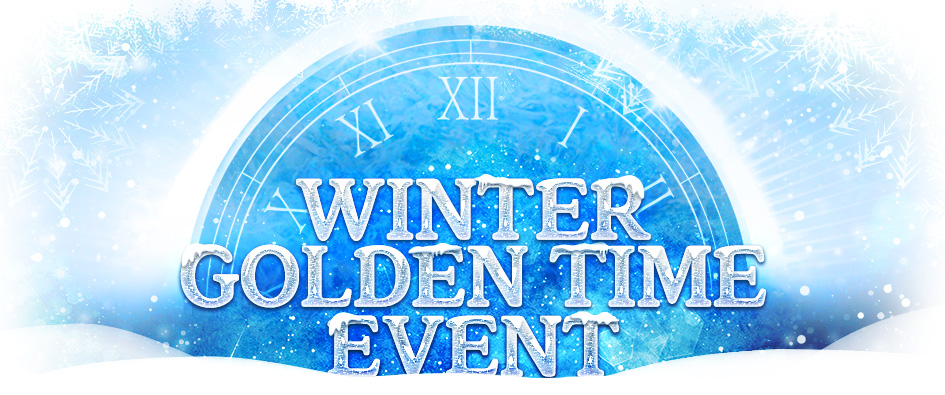 2019 is closing in and the new year of 2020 is upon us. To celebrate the end and new year this winter, we're bringing in a special Winter Hot-Golden Time Event for our Mercenaries. Check out the schedules below and receive special perks just by logging in during the hot and golden times.
Event Details
Hot Time (24 Hrs)
Event
When
2x Combat EXP
Weekends & Holidays
2x AP
2x Expertise Proficiency
2x Expertise Speed
Boss Evil Core +1
Additional Departure +1
Unlimited Revival
12/25, 1/1
Golden Time
Given through Mailbox when stayed logged in for 5 minutes during the Golden Time Gift Box distribution time.


Golden Time Gift Box:

Expires February 25th 7 A.M. UTC.
Can be traded within the account.
Item
Date
Contents
Trade
Expiration
Winter Golden Time Gift Box
12/14
Golden Time Epaulet (4 Weeks)
All trades not possible
Week 4
Intermediate Element Stone x2
All trades not possible
-
12/15
Fine Pet Destiny Box (Gift)
Sharable within account
-
VVIP Service (15 Days, Gift)
All trades not possible
-
12/21
Mysterious Shard Box
Sharable within account
2/25/2020 7:00 UTC
Shared Storage Coupon (30 Days, Gift)
All trades not possible
-
12/22
Permanent Hair Pass

Sharable within account

All trades not possible

2/25/2020 7:00 UTC
Pet EXP 10000 Capsule (Gift) x15

Sharable within account

All trades not possible

-
12/25
Winter Golden Time Outfit Dye Ampoule Destiny Box
Sharable within account
2/25/2020 7:00 UTC
AP 3000 Capsule (Gift)
All trades not possible
-
12/28
Rare Legendary Ore Destiny Box

All trades not possible

Sharable within account

2/25/2020 7:00 UTC
Max +3 Quality Alteration Coupon Gift Box
Sharable within account
2/25/2020 7:00 UTC
12/29
Abyssal Shard Box
Sharable within account
2/25/2020 7:00 UTC
Damascus Steel (Binding) x10
All trades not possible
-
1/1
Winter Golden Time Clodagh's Dye Ampoule Destiny Box
Sharable within account
2/25/2020 7:00 UTC
Goibhniu's Enhancement Stone
All trades not possible
2/25/2020 7:00 UTC
1/4
Max +20 Accessory Enhancement Swap Coupon Box
Sharable within account
2/25/2020 7:00 UTC
Permanent Avatar Coupon Destiny Box
Sharable within account
2/25/2020 7:00 UTC
1/5
Permanent Inner Armor Pass

Sharable within account

All trades not possible

2/25/2020 7:00 UTC
Enhancement Rune (Binding)
All trades not possible
-
1/11
Golden Time Epaulet (4 Weeks)
All trades not possible
4 Weeks
Dullahan's/Astera's Essence Random Box
Sharable within account
2/25/2020 7:00 UTC
1/12
Additional Unbinding Coupon (1 time)

Sharable within account

All trades not possible

2/25/2020 7:00 UTC
Rare Legendary Ore Destiny Box
Sharable within account
2/25/2020 7:00 UTC
1/18
Max +15 Enhancement Swap Coupon Box
Sharable within account
2/25/2020 7:00 UTC
Premium Enhancement Rune

Sharable within account

All trades not possible

2/25/2020 7:00 UTC
1/19
Premium Enchant Rune (Gift)
All trades not possible
2/25/2020 7:00 UTC
Intermediate Element Stone x2
All trades not possible
-
1/25
Pet EXP 10000 Capsule (Gift) x15

Sharable within account

All trades not possible

-
+ Goibhniu's Enhancement Stone
All trades not possible
2/25/2020 7:00 UTC
1/26
Premium Armor Fusion Rune (Binding)
All trades not possible
-
Restoration Scroll (Gift)
All trades not possible
2/25/2020 7:00 UTC
Reward Details