Sales Period: December 23rd - January 28th, 2020
Exchange Shop Period: December 23rd - February 4th, 2020

The Steel Crystal is finally here Mercenaries! From the Special Steel Queen Iset Set to the magnificently cute Knight Keaghan Pets, get your gorgeous outfits and pets now with the Steel Crystal today! Now or never!
Item Name
Contents
Price (NX)
Steel Crystal
White Light Wings
Airtight Steel Queen Iset Set
Airtight Steel Lord Keaghan Set
Airtight Brave Knight Keaghan Pet
Airtight Golden Knight Keaghan Pet
Airtight Platinum Knight Keaghan Pet
Airtight Enraged Knight Keaghan Pet

And Many More!
1,900 (x1)



20,900 (x11)


19,000 (x11)



62,700 (x33)


57,000 (x33)



104,500 (x55)


95,000 (x55)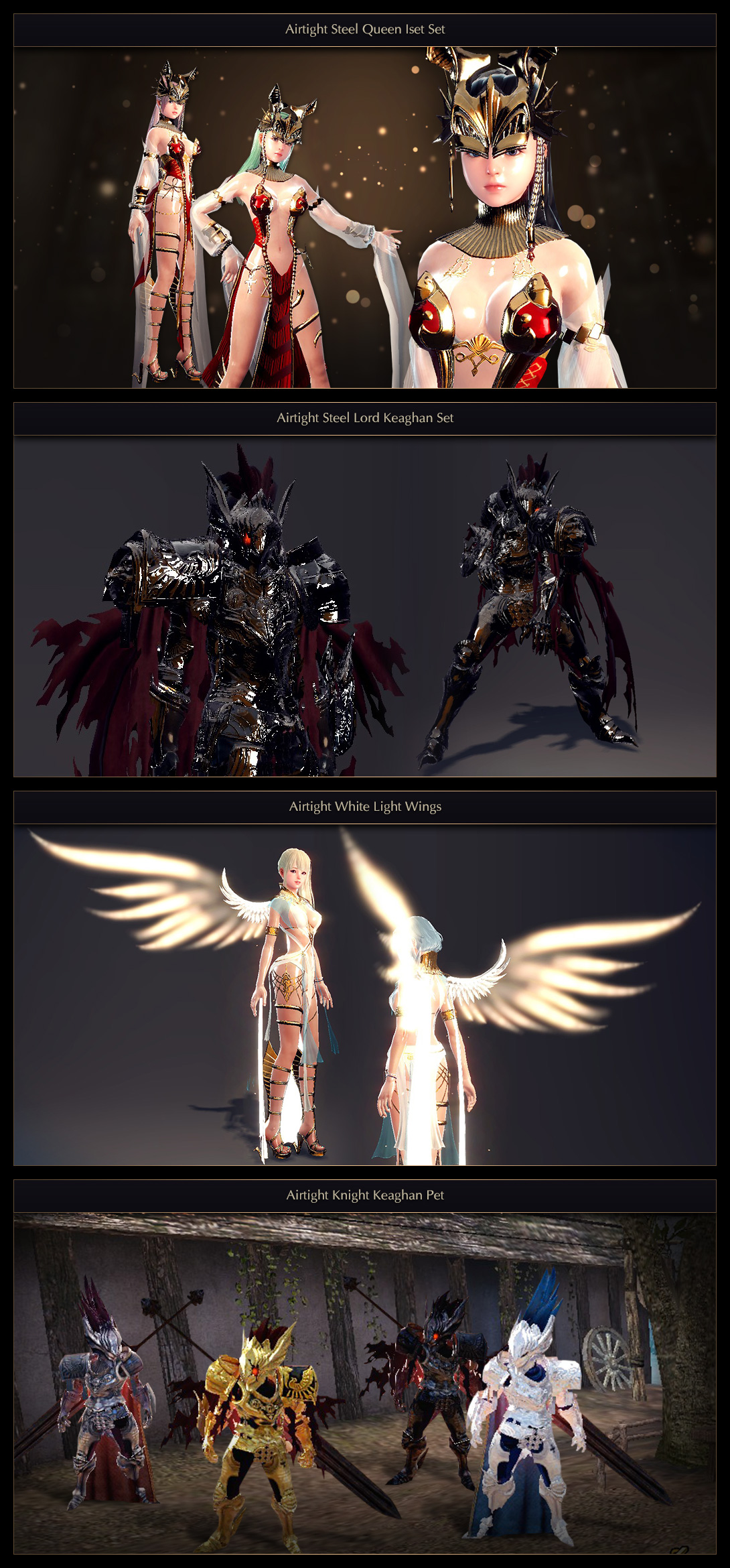 Exchange Shop
Item Name
Quantity
Required
Coupons
Trade
Limit
Trade
Spec
White Light Wings
1
450
Unlimited
-
Airtight Steel Queen Iset Set
Airtight Steel Lord Keaghan Set
Airtight Brave Knight Keaghan Pet
400
Airtight Golden Knight Keaghan Pet
Airtight Platinum Knight Keaghan Pet
Airtight Enraged Knight Keaghan Pet
Superior Pet Destiny Box
150
Account
Share
Possible
VVIP Service Package (30 Days, Gift)
100
UID x5
Bind
Fine Pet Destiny Box
Unlimited
Account
Share
Possible
Premium Enhancement Rune
80
UID x5
Bind
Enhancement Rune (Gift)
30
Beginner Pet Destiny Box
20
Unlimited
Account
Share
Possible
Divine Blessing Stone (Gift)
30
10
Bind
Max Durability Increase Potion (Gift)
4
2
Goddess Grace (Gift)
5
Merc Recovery Potions (Gift)
20