Event Period: October 27th - November 17th
Exchange Shop Period: October 27th - November 24th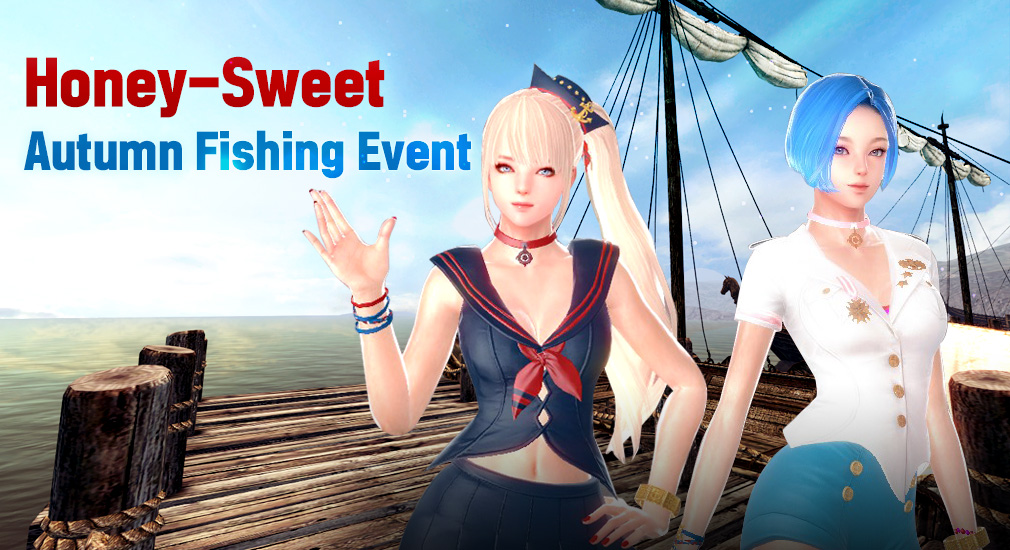 The short season of Autumn is here and before it leaves again so quickly, we've prepared a fun fishing event for all our fans who just love to fish in the quiet calm out sea! Participate during the event period now to enjoy and win free rewards of your choice as well!

Event Details
During the event, you can purchase the Honey-Coated Fishing Rod from the Owl Shop on the Fishing Boat.



Can purchase up to 50 per day per character.


Can be purchased from Fishing > Owl Shop.


Honey-Coated Fishing Road cannot be traded and expires on November 17th, 2020 7 A.M. UTC.




When you fish using the event fishing rod, you can reel in a Honey Coupon Snippet, a Box of Rarities, or a Fishy Recovery Potion.



The effect from using the Fishy Recovery Potion is the same as that from the Merc Recovery Potion.




Using the coupon made from combining the coupon snippets, you can purchase items from the Coupon Shop.



Honey Coupon Snippet x5 can be combined to make Honey Coupon x1.
Reward Details
Rewards Obtained From Fishing 1 Time
Item Name
Expiration
Box of Rarities
11/24/2020 7AM UTC
Honey Coupon Snippet
Fishy Recovery Potion
12/15/2020 7AM UTC

List of Items Obtainable Upon Opening the Box of Rarities
Item Name
Expiration
Goibhniu's Stone + (Gift)
12/15/2020
7AM UTC
Storage Chest Expansion Ticket (Permanent)
Fishy Recovery Potion
Premium Armor Enhancement Rune (Binding)
Premium Bath Soap (Gift)
LUK Buff Scroll (Event) (1 Hour, LUK +3)
Equipment Durability Protection (Exquisite)
Departure License (Event)
Unlimited Outfitter Pass (30 Days)
None
Goddess Grace (Binding)
Ceara's Fatigue Potion (Binding)

Coupon Exchange Shop
Item Name
Coupons
Needed
Purchase
Limit
Goibhniu's Stone + (Gift) x1
40
x1 per Account
Unlimited Outfitter Pass (30 Days) x1
Storage Chest Expansion Ticket (Permanent) x1
x2 per Account
Premium Armor Enhancement Rune (Binding) x1
Premium Bath Soap (Gift) x1
30
x1 per Account
LUK Buff Scroll (Event) (1 Hour, LUK +3) x1
10
x4 per Account
Departure License (Event) x1
x7 per Account
Goddess Grace (Binding) x1
5
x10 per Account
Ceara's Fatigue Potion (Binding) x1
x20 per Account
Equipment Durability Protection (Exquisite) x1
x10 per Account
Fishy Recovery Potion x3
1
None
All items above are bound to character.


All items above expire on December 15th, 2020 7 A.M. UTC.



The following items do not expire:



Unlimited Outfitter Pass (30 Days)


Goddess Grace (Binding)


Ceara's Fatigue Potion (Binding)