Event Period: November 17th - December 8th
Exchange Shop Period: November 17th - December 15th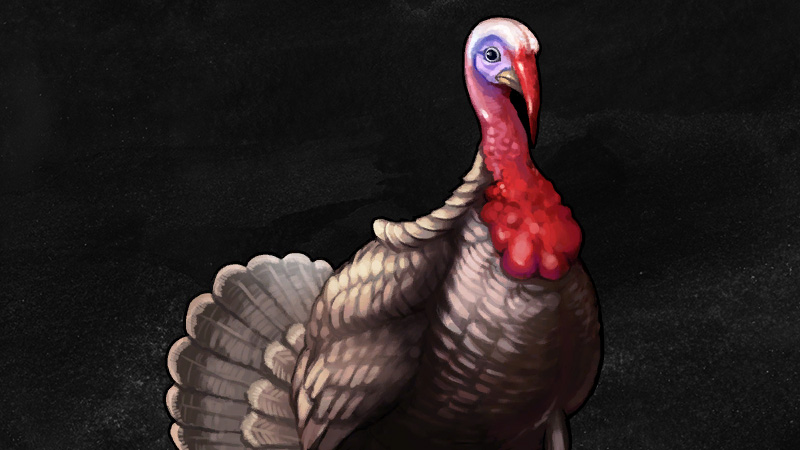 Event Details
Per-character Event (Lv. 60+)
Start the [Event: Thanksgiving Basket Case] from the Strange Traveler (Lv. 60+).


When you complete [Event: Thanksgiving Basket Case] story, you obtain 2 [Mmm, Mmm! Turkey!] dishes.

[Mmm, Mmm! Turkey!] is a food item. When you use it in places like the hot springs, you can share it with other characters around you.
Food Effects: ATT/M. ATT +300, DEF +300, Attack Speed +1, Balance +1, Critical +1 (lasts for 1 hour).
[Mmm, Mmm! Turkey!] Expiration: 12/31/2020 7AM UTC.



Earn Stolen Party Baskets from Lv. 60+ battles and the material dungeon (obtain up to 40 a week).

[Stolen Party Basket] Expiration: 12/15/2020 7AM UTC.



Use the Stolen Party Baskets to access the Exchange Shop.

Battle Regions Where the Item Can Be Obtained

Battle Regions
The Giant
Autumn Reed Bed
A Clue
Into the Abyss
Give a Beggar a Coin...
Deciduous Forest
What to Believe In
Desolate Malina
What the Dead Leave Behind
Glowing Plant
Earth Shaker
Gates of Hell
Taking Initiative
Garden Guardian
Troll Hunter
Burning Temple
Wet, Dark, and Mossy
Ben Chenner Trailhead
Wasp Conqueror
God of Death
Sewers
Orders from Above
The Chief of Death
The Awakening - Armor of Darkness
Strong Drink
A Friend Once Lost
A Ruler's Refuge
Awakening - Armor of Ivory
The Dark, Dank Sewers
The Fallen Guardian
Stormy Seas
Fort of Oblivion
The Inverse Blade
Summoning Remnant
Appreciate a Pirate's Greatness
Supply Lines
Silent Blade
Ben Chenner Summit
Tone Deaf Siren
Light's Warning
Central Garden
En Route
Appreciate a Pirate's Magnificence
Repeated Alert
Ahglan the Golem
A Place of Loss
Lost and Damned
Cold Comfort
Gatekeeper of the Catacombs
Statue at the Summit
Treasure Hunt
Broken Interdiction
Avatar of Destruction
Lochlann Plains
Devil in the Water
Greed's End
The Fomorian Leader
Lochlann Plains Entrance
Desert Passage
Just to be Sure
Betrayal
Abandoned Ruins
Cave of the Reaper
Garden of Tears
The Evil One
Facing the Inevitable
The Last Meeting
Corrupted Queen
Colru the Golem
World of Pain
Voices in the Dark
Island Ruins
Earthborn Seal
Burning Vice
Search for the Destiny Stone
Twists in Time
Frostborn Seal
The Operating Room
The Way Home
Temple of the Fallen Moon
Timeless Rage
Rescue Mission
Endless Questions
Shadow and Light
Fate and Destiny
The Devil's Cook
Underground City
Radiance
Relic Exploration
Deep Corruption
Desert Princess
Shining Lugh
Ruins Demo Quest
A Moment's Notice
Memory of the Past
Agony and Despair
Ainle Demo Quest
Shattered Will
Death's Shadow
Under the Surface
Holy Ground
Peer into the Rift
No Man's Mine
Denizen of the Deep
Fine Mercenary Training Site
A Long, Dark Path
Crumbling Mine
Bathed in Red
Secret Waterway
Frozen Land
Under the Moonlight
Ainle at Stake
Rocheste by Sea
Nothing to Lose
Mine Rendezvous
Ben Chenner Entrance
You Only Live Once
The Vanishing Magician
Traces of Battle
Impermanence
Bizzare Machine
 
 
 
Exchange Shop
Item Name
Required
Coupons
Purchase
Limit
Premium Bath Soap x1
25
1x per
Account
Wobbling Ducky Hairpin x1
-
Title: Going Hot Turkey x1
Seal Player Choice Box x1
20
2x per
Character
Clodagh's Experimental Dye
Ampoule (Empty) x1
12
-
Experimental Outfit Dye
Ampoule (Empty) x1
Ampoule Extractor (Binding) x4
Mmm, Mmm! Turkey! x2
1
Merc Recovery Potion (Binding) x2
All items above are bound to character.


The following items expire on December 31st at 7 AM UTC.

Premium Bath Soap
Seal Player Choice Box
Mmm, Mmm! Turkey!

[Deca-Seal Destiny Box Available Item List]
Claim 1 of the following contents.
Box Expiration: 12/31/2020 7AM UTC
Item Name
Quantity Obtained
Triumph Medal
10
Seal of Bravery
Seal of Dedication
Honor Medal
Sports Day Trophy