Event Period: 08/10 - 08/31 (3 weeks)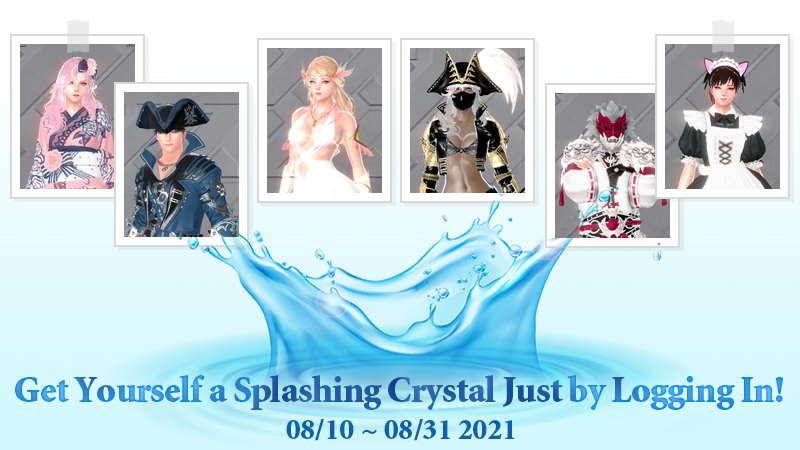 Event Details
After staying logged in for 30 minutes, you can claim rewards via the check-in UI.
You are gifted with a Splashing Crystal item every day.

1 Splashing Crystal given on the weekdays and a total of 2 on the weekends.
Opening the event's Splashing Crystal won't give a coupon.

The Splashing Crystal can be opened by characters starting from Lv. 30.
Event Reward
Open the Splashing Crystal to get 1 item from the following list based on the probability rate.
* Notes: The item expires on 9/28/2021 at 7AM UTC.
| | | | | | | |
| --- | --- | --- | --- | --- | --- | --- |
| Item Name | Quantity | Marketplace Use | Trade by Mail | Account Mail | Guild Box | Shared Storage |
| Airtight Special Angelic Elf Set | 1 | Unavailable | Unavailable | Unavailable | Unavailable | Possible |
| Airtight Special Blackwater Pirate Set | 1 | Unavailable | Unavailable | Unavailable | Unavailable | Possible |
| Airtight Special Blackwater Outlaw Set | 1 | Unavailable | Unavailable | Unavailable | Unavailable | Possible |
| Airtight Special Righteous Beast Set | 1 | Unavailable | Unavailable | Unavailable | Unavailable | Possible |
| Airtight Special True Floral Yukata Set | 1 | Unavailable | Unavailable | Unavailable | Unavailable | Possible |
| Airtight Special Meow Maid Set | 1 | Unavailable | Unavailable | Unavailable | Unavailable | Possible |
| Airtight Special Void Reaper Set | 1 | Unavailable | Unavailable | Unavailable | Unavailable | Possible |
| AP 5000 Capsule (Account Shareable) | 1 | Unavailable | Unavailable | Possible | Unavailable | Possible |
| VIP Service Package (30 Days, Gift) | 1 | Unavailable | Unavailable | Unavailable | Unavailable | Possible |
| Airtight Storage Chest Expansion Ticket (Permanent) | 1 | Unavailable | Unavailable | Unavailable | Unavailable | Possible |
| Premium Armor Enhancement Rune (Gift) | 1 | Unavailable | Unavailable | Unavailable | Unavailable | Possible |
| Airtight Premium Enhancement Rune (Gift) | 1 | Unavailable | Unavailable | Unavailable | Unavailable | Possible |
| Reilly's Face Oil (Gift) | 1 | Unavailable | Unavailable | Possible | Unavailable | Possible |
| AP 3000 Capsule (Account Shareable) | 1 | Unavailable | Unavailable | Possible | Unavailable | Possible |
| Appearance Alteration Coupon (Gift) | 1 | Unavailable | Unavailable | Unavailable | Unavailable | Possible |
| Premium Videk's Safeguard (Gift) | 1 | Unavailable | Unavailable | Possible | Unavailable | Possible |
| Premium Weapon Fusion Rune (Gift) | 1 | Unavailable | Unavailable | Unavailable | Unavailable | Possible |
| Pure Skill Reset Capsule (Gift) | 1 | Unavailable | Unavailable | Unavailable | Unavailable | Possible |
| Airtight Skill Awakening Delimiter Erg (60%) | 1 | Unavailable | Unavailable | Unavailable | Unavailable | Possible |
| Enhancement Rune (Gift) | 1 | Unavailable | Unavailable | Unavailable | Unavailable | Possible |
| Weapon Fusion Rune (Gift) | 1 | Unavailable | Unavailable | Unavailable | Unavailable | Possible |
| Airtight Skill Awakening Delimiter Erg (50%) | 1 | Unavailable | Unavailable | Unavailable | Unavailable | Possible |
| Premium Armor Fusion Rune | 1 | Unavailable | Unavailable | Unavailable | Unavailable | Possible |
| Airtight Skill Awakening Delimiter Erg (40%) | 1 | Unavailable | Unavailable | Unavailable | Unavailable | Possible |
| Outfit Dye Reset Ampoule (Gift) | 1 | Unavailable | Unavailable | Possible | Unavailable | Possible |
| Airtight Cadet Badge (30 Days, Gift) | 1 | Unavailable | Unavailable | Unavailable | Unavailable | Possible |
| Airtight Skill Awakening Delimiter Erg (30%) | 1 | Unavailable | Unavailable | Unavailable | Unavailable | Possible |
| Max Awakening Increase Potion (Gift) | 1 | Unavailable | Unavailable | Unavailable | Unavailable | Possible |
| EXP Blessing Stone (Gift) | 15 | Unavailable | Unavailable | Unavailable | Unavailable | Possible |
| Premium Skill Awakening Rune (Gift) | 1 | Unavailable | Unavailable | Unavailable | Unavailable | Possible |
| Armor Fusion Rune (Gift) | 1 | Unavailable | Unavailable | Unavailable | Unavailable | Possible |
| Server Megaphone (Gift) | 3 | Unavailable | Unavailable | Unavailable | Unavailable | Possible |
| Videk's Safeguard (Gift) | 1 | Unavailable | Unavailable | Possible | Unavailable | Possible |
| Divine Blessing Stone (Gift) | 10 | Unavailable | Unavailable | Unavailable | Unavailable | Possible |
| Unbind Potion (Gift) | 2 | Unavailable | Unavailable | Unavailable | Unavailable | Possible |
| Airtight Skill Awakening Delimiter Erg (20%) | 1 | Unavailable | Unavailable | Unavailable | Unavailable | Possible |
| Rabi Whistle (1 time) | 10 | Unavailable | Unavailable | Unavailable | Unavailable | Unavailable |
| Max Durability Increase Potion (Gift) | 2 | Unavailable | Unavailable | Unavailable | Unavailable | Possible |
| EXP Blessing Stone (Gift) | 10 | Unavailable | Unavailable | Unavailable | Unavailable | Possible |
| AP Blessing Stone (Gift) | 10 | Unavailable | Unavailable | Unavailable | Unavailable | Possible |
| Luck Blessing Stone (Gift) | 10 | Unavailable | Unavailable | Unavailable | Unavailable | Possible |
| Goddess Grace (Party, Gift) | 3 | Unavailable | Unavailable | Unavailable | Unavailable | Possible |
| Merc Recovery Potion (Gift) | 10 | Unavailable | Unavailable | Unavailable | Unavailable | Possible |
| Skill Reset Capsule (Gift) | 1 | Unavailable | Unavailable | Unavailable | Unavailable | Possible |
| Merc Recovery Potion Plus (Gift) | 10 | Unavailable | Unavailable | Unavailable | Unavailable | Possible |
| Skill Awakening Rune (Gift) | 1 | Unavailable | Unavailable | Unavailable | Unavailable | Possible |
| Airtight Skill Awakening Delimiter Erg (10%) | 1 | Unavailable | Unavailable | Unavailable | Unavailable | Possible |
| Party Merc Recovery Potion (Gift) | 10 | Unavailable | Unavailable | Unavailable | Unavailable | Possible |
| Ampoule Extractor (Gift) | 2 | Unavailable | Unavailable | Possible | Unavailable | Possible |
| Goddess Grace (Gift) | 3 | Unavailable | Unavailable | Unavailable | Unavailable | Possible |
| VVIP Service Package (15 Days, Gift) | 1 | Unavailable | Unavailable | Unavailable | Unavailable | Unavailable |
| Unlimited Inner Armor Pass (30 Days, Gift) | 1 | Unavailable | Unavailable | Unavailable | Unavailable | Unavailable |
| Shared Storage Coupon (30 Days, Gift) | 1 | Unavailable | Unavailable | Unavailable | Unavailable | Unavailable |
| Experimental Outfit Dye Ampoule (Empty) | 1 | Unavailable | Unavailable | Unavailable | Unavailable | Unavailable |
| Perpetual Enchant Coupon (Gift) | 1 | Unavailable | Unavailable | Unavailable | Unavailable | Unavailable |
| Clodagh's Experimental Dye Ampoule (Empty) | 1 | Unavailable | Unavailable | Unavailable | Unavailable | Unavailable |