Event Period: 08/10 - 09/14 (5 weeks)
Exchange Shop 08/10 - 09/21 (6 Weeks)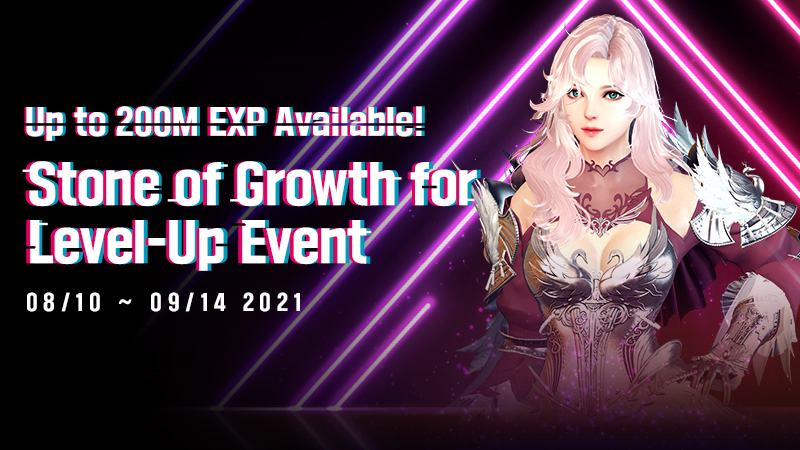 Event Details
* Character-Based Event (Lv. 65+)
When you complete the following battles during the event period, you will get a Stone of Growth.

Can obtain up to 30 per week.
Obtained count resets every Tuesday at 7AM UTC.
Can obtain up to 150 during the event period.
[Battle Regions Where the Item Can Be Obtained]
Lv. 65+ normal battles
Red Moon's Energy region battles
Lv. 95 raid battles
[Note] Solo Mode is excluded from the event conditions.
Battle Name
Bathed in Red
Ainle at Stake
The Missing Soul
The Price of Failure
Iron Fist
Distorted Truth
Earth Shaker
Troll Hunter
Wasp Conqueror
The Chief of Death
A Ruler's Refuge
Stormy Seas
Appreciate a Pirate's Greatness
Tone Deaf Siren
Appreciate a Pirate's Magnificence
Lost and Damned
Treasure Hunt
Devil in the Water
Desert Passage
Cave of the Reaper
The Last Meeting
Voices in the Dark
Search for the Destiny Stone
The Way Home
Endless Questions
Underground City
Desert Princess
Memory of the Past
Death's Shadow
No Man's Mine
Crumbling Mine
Under the Moonlight
Just to be Sure
Mine Rendezvous
The Vanishing Magician
Bizarre Machine
Into the Abyss
Charles Expedition
Desolate Malina
Gates of Hell
Burning Temple
God of Death
Rocheste by Sea
Ben Chenner Entrance
Traces of Battle
Garden of Tears
Autumn Reed Bed
Deciduous Forest
Glowing Plant
Garden Guardian
Corrupted Queen
Ben Chenner Trailhead
Island Ruins
Orders from Above
A Friend Once Lost
River on Fire
The Fallen Guardian
Twists in Time
Temple of the Fallen Moon
Summoning Remnant
Shadow and Light
Ben Chenner Summit
Radiance
En Route
A Place of Loss
Statue at the Summit
Shining Lugh
Lochlann Plains
Agony and Despair
Lochlann Plains Entrance
Abandoned Ruins
Facing the Inevitable
Under the Surface
World of Pain
Burning Vice
The Operating Room
Rescue Mission
The Devil's Cook
Deep Corruption
A Moment's Notice
Shattered Will
Denizen of the Deep
A Long, Dark Path
Frozen Land
Nothing to Lose
You Only Live Once
Impermanence
A Clue
What to Believe In
Peer into the Rift
The Birch Forest
Forest Edge
Back to the Forest
Fort of Oblivion
Supply Lines
Light's Warning
Repeated Alert
Cold Comfort
Broken Interdiction
Greed's End
 Exchange the Stones of Growth earned for rewards via the Exchange Shop.
 Stone of Growth Exchange Shop
| | | | | | |
| --- | --- | --- | --- | --- | --- |
| Item Name | Quantity | Required Number of Coupons | Purchase Limit | Duration | Tradability |
| EXP 10,000,000 Capsule (Gift, Lv. 104 or Below) | 1 | 5 | 20x per character | 9/21/2021 at 7AM UTC | Bound to Character |
| VIP Capsule (7 Days) | 1 | 5 | 4x per character | None | Bound to Character |
| Intermediate Element Stone | 1 | 15 | 5x per account | None | Bound to Character |
| Daily Mission Ticket | 1 | 15 | 5x per account | None | Bound to Character |
| Ampoule Extractor (Binding) | 1 | 5 | 20x per account | None | Bound to Character |
| Clodagh's Ampoule Extractor (Binding) | 1 | 5 | 20x per account | None | Bound to Character |
| Ceara's Fatigue Potion (Binding) | 1 | 2 | 15x per character | None | Bound to Character |
| AP 100 Capsule (Gift) | 1 | 2 | 10x per character | None | Bound to Character |
| Merc Recovery Potion (Binding) | 1 | 1 | None | None | Bound to Character |