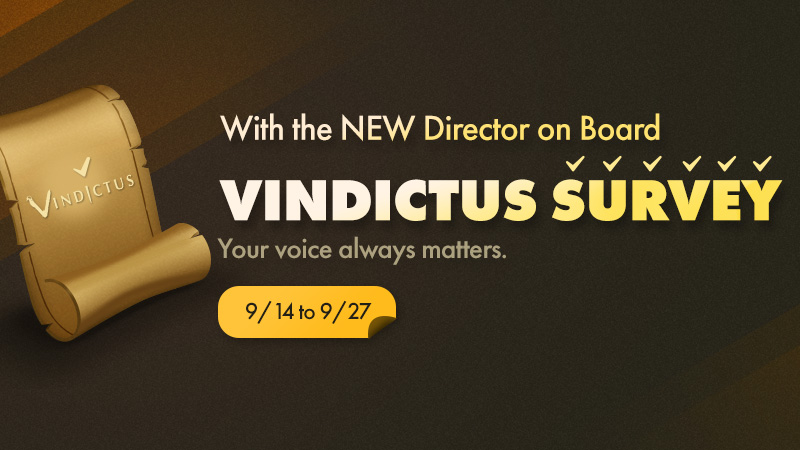 Greetings Mercenaries,
We have prepared DevTalk Mini this time and would like to briefly talk about the future of Vindictus with our new director, Allanon.
- Click here to watch the DevTalk Mini
Along with the DevTalk Mini, we kindly ask you to let us know your opinions via the survey below. It'll help us create more enjoyable gaming experiences.
- Click here to take the survey
Please don't forget to check out the thank-you gift at the end of the video! 
Thank you.
[How to use September DevTalk Mini]
- Enter the Coupon code at the end of the DevTalk Mini and receive the reward below:
Item

Detail

Contents

Allanon's Gift Box

Allanon's Gift Box.

Right-click to open

and obtain all of its contents.

[Dev Talk] Special Outfit Set Destiny Box x1

Special Experimental Outfit Dye Ampoule Destiny Box (35 Colors) x3

VVIP Service (30 Days) x1
- The Coupon code can be used until 2023.10.16 (Mon) 07:00 UTC and will not be available after it expires.
- The Coupon is available once per account.
- Used Coupons cannot be reused.
- All contents in Allanon's Gift Box are available until 2023.12.31 07:00 UTC.
- VVIP Service (30 Days) will be bound to the character once obtained.
[How to use Coupon]
1. Enter Vindictus - [Supply Depot] – click [Enter Coupon]
2. Enter Coupon
3. Redeem Coupon
※ You can get your item from Storage Chest (Shortcut [B]) > Temporary Storage Chest after the successful Coupon Redeem pop-up.