2019-01-31 PT Update: Winner Announcement
Greetings Mercenaries,
From January 15th to January 22nd, we asked all our guilds to simply show off their guild to our Vindictus community for a week to win an amazing prize! We've received several submissions through our official forum, and it was great to see so many beautiful guilds our mercenaries have created, enjoyed, and have made many beautiful memories together until this day! We thank all those who've submitted and to all the guild masters and members for their contributions for our Vindictus community. Despite the great and amazing submissions, we had to choose one single guild that we thought have met the minimum guild requirements for this event participation, and have done their best to "show off" with the opportunity that they had been given for the honorary first place. Please join us in congratulating the winners of the 'Show Off Your Guild' event, and we thank all once again for their participation. This is not the end and we are excited to see how all the guilds in our community will grow through this event.
- The Vindictus Team
1st Place: ILog_HorizonI (Crystal_Rose)
2nd Place:
REKT (AltairShadow)
REKT (Venerator)
Lion Heart (Naraxas)
GoddessDivas (AndromedaGM)
Cool Beanz (OCDenhanced)
Veteran (CptMcFly)
Veteran (Shizukaa)
BlackTornado (QuiJinn)
Lion Heart (Vellaura)
Insight (Mezelia)
3rd Place:
TeddyLeague (Caliphos)
Veteran (BladeStormX)
EdgeOfGlory (Ortix)
REKT (Breast Grill)
Snowflake (Samalenko)
AssassinPie (Xaeviera)
Tales (Zubine)
BeautyBlades (KiiwiiPowa)
GhostKnights (Dokuro)
REKT (Zaytiatus)
SilverDrops (PeanutButter501)
Prizes (NX Cash) will be sent into each winner's (above) NEXON account, so please check your Inbox of NEXON's official home webpage. Instructions on how to use them will be given through that message.
---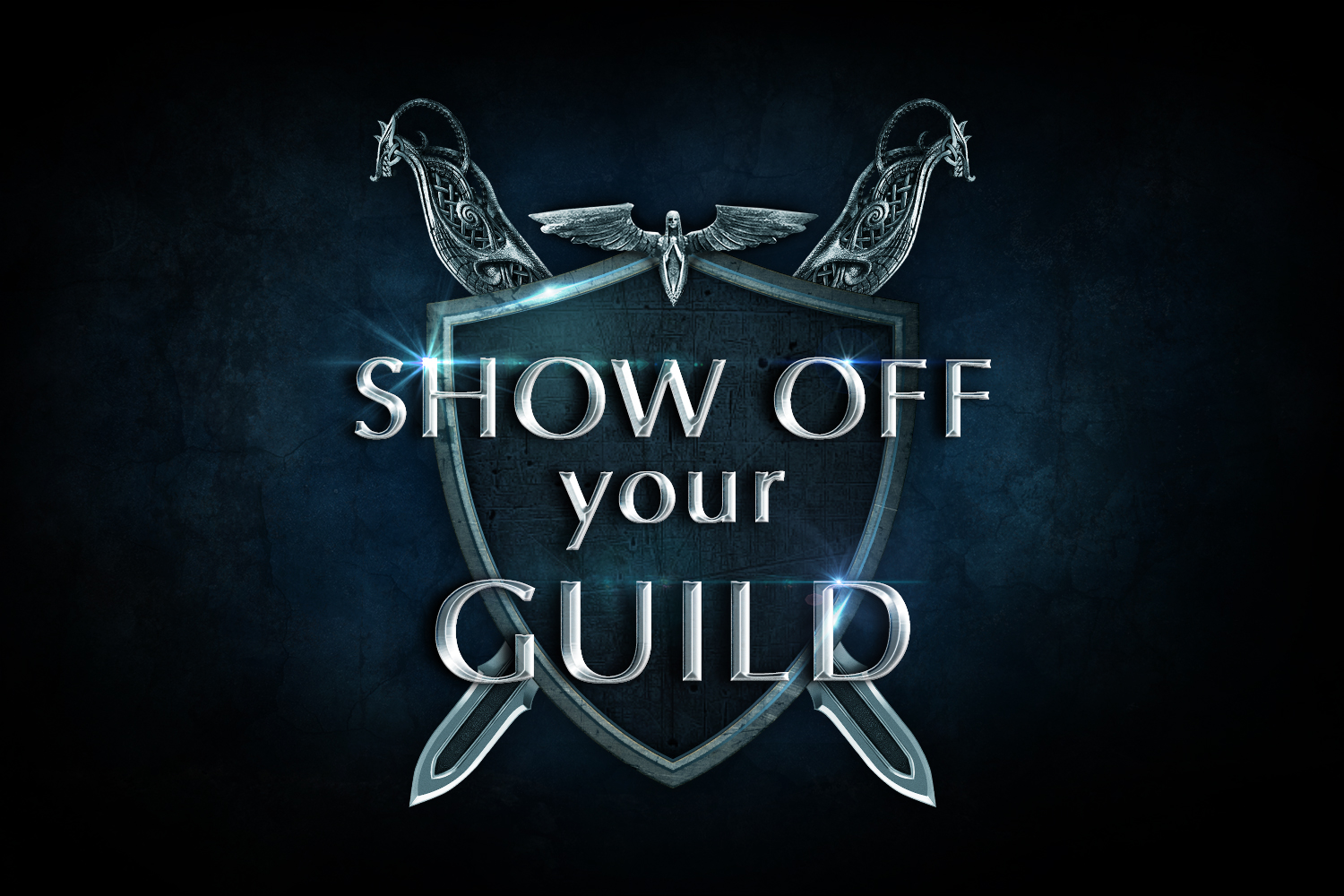 Event Name
Show Off Your Guild
Event Period
1/15/2019 (After Maintenance)
1/22/2019 (Before Maintenance)
Winner Announcement
& Reward Distribution Date
TBD
<We would like to make sure that all individual postings are thoroughly reviewed. Therefore the exact date will be determined and updated in the near future: Winners will be announced at latest by the 3rd week of February>
Greetings Mercenaries, here is a chance for you to show off your Guild and let them shine! If you are not part of a Guild, this would be a great time to look for a Guild to join! During the event period: 
Tell us all about your Guild and why you think your Guild stands out from the others and receive NX COUPONS!
| | | |
| --- | --- | --- |
| Places | Prizes | Number of Winners |
| 1st Place | 50,000 NX | 1 |
| 2nd Place | 20,000 NX | 10 |
| 3rd Place | 10,000 NX | 20 |
We will review all the postings that were posted during the event period, and after a thorough review, winners will be chosen and announced on Jan 29th, 2019 after maintenance. Please take note of all the requirements and terms listed below to participate.
Minimum Guild Requirements for Participation
| | |
| --- | --- |
| Minimum Guild Members | 30 |
| Minimum Guild Points | 5,000 |
| Status | Active |
Please follow the guidelines below to participate in this event:
Guidelines
You must be a part of a Guild to participate.

Your post's title should read as follows:
Server / Guild Name / # of Current Guild Members / Amount of current Guild Points (GP) your Guild holds

EX) NA / VINDICTUSFAMILY / 51 / 10,001
Include a picture of you & your Guild Members (not all members need to be present)
Tell us about your Guild and why you believe that your Guild is the BEST Guild out there and how your Guild outshines others in detail. Please include the followings:

- Your Guild's server
- Why others should join your Guild
- What makes your Guild special or stand out
- Your Guild's motto
- Biggest achievement that you and your Guild members have achieved
- Future goals with your Guild members
- Other fun or interesting facts about your Guild
Please Note:
All members of the same Guild can participate. However, there will be a maximum cap of 5 members from the same Guild that can be considered as winners.
You and your Guild will be DISQUALIFIED if you repeat/copy and paste what others have posted (Please note that violating this will affect other members in your Guild from becoming an eligible winner): this includes any sorts texts (Guild Motto is an exception), images, and clips.
Tips:
Increase Your Chance of Winning!
Write out an INTERESTING and UNIQUE description of your Guild and your experience with your Guild -> The MORE UNIQUE and CREATIVE you are, the HIGHER the chance to win!
Gather more Guild members -> HIGHER the number, HIGHER the chance to win!
Gather more Guild members to take the screenshot with -> HIGHER the number, HIGHER the chance to win!
Don't Have A Guild?
No worries! It's never too late to join a Guild and show off your new Guild. There are various ways to look for and join a Guild.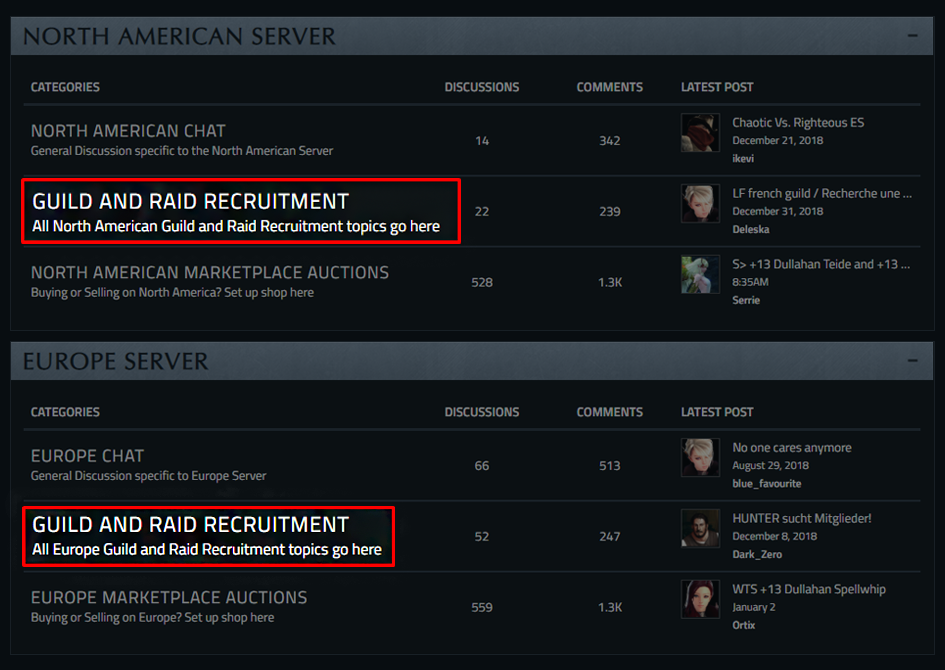 You can also search for and join a Guild in the game! Here's a quick guide for you of how to create or join a Guild in the game! Here's how:

Click on the 'Guild' button in the bottom left corner:

2. If you have not yet joined or created a Guild, you will see the window below: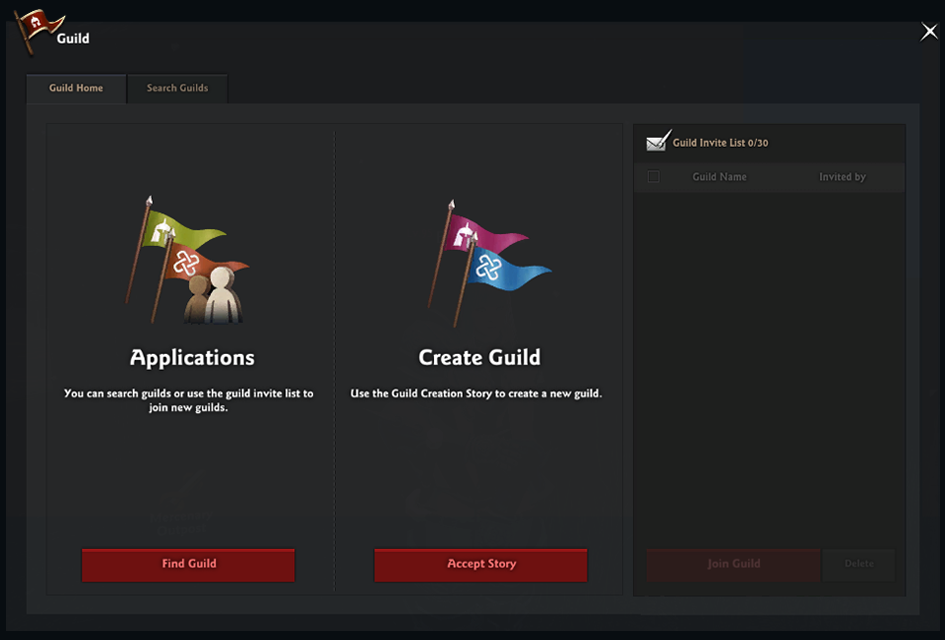 3. Here you can either search for a Guild to apply to or create your own Guild and recruit other mercenaries.
Guild Creation Guide:
To create your own Guild, take the 'Guild Story' from Ceara in 'Colhen Mercenary Outpost.'
Complete the story by talking with the Guard outside of 'Rocheste Castle.'
It will cost you 300,000 Gold to finish the quest and to create your own Guild.
Remember Mercenaries, we become stronger together than when we are alone...
IMPORTANT NOTE

: Please take careful note that any sort of reproductions of others' postings (texts/images/clips etc.) will result in a DISQUALIFICATION of you and your entire Guild members from this event.