Event Period: November 12th - December 10th
Exchange Shop Period: November 12th - December 17th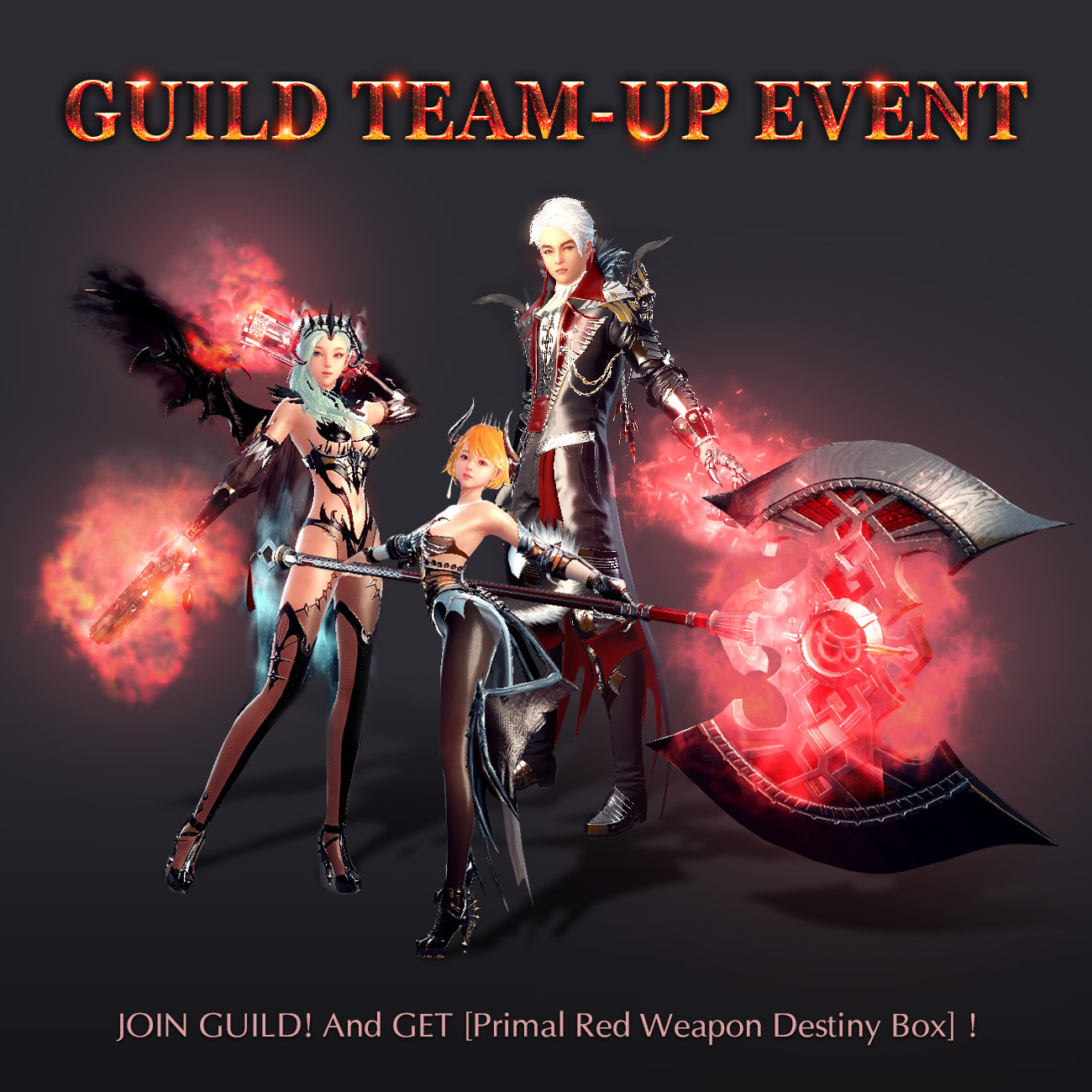 Calling on all guild leaders and members! We've finally organized an event just for you! Call out your guild leaders and members, complete the missions, and earn the 'Primal Red Weapon Destiny Box' now! Don't have a guild? Join one today!
[Event Details]
Per-character Event.
There is no level limit so join a guild today and earn a chance to acquire the 'Primal Red Flame Weapon!'
Team-up with your guild members and go out on a battle to receive a buff! (The buff will vary based on the party size.)

Party of 2: STR +50, INT +50, DEF +100, Crit +1, LUK +10
Party of 3: STR +60, INT +60, DEF +150, Crit +1, LUK +10
Party of 4: STR +70, INT +70, DEF +200, Crit +1, LUK +10



Guild Mission Completion Event

Clear all guild missions to obtain a 'Guild Mission Completion Coupon!'

Take the coupon and use it at the Exchange Shop.
Coupon Expiration: Until December 17th 7 A.M. UTC.
If you sell the coupon, you'll earn 2 AP.
[Event Reward]
Exchange Shop
Items
Coupon(s)
Required
Purchase
Limit
Primal Red Flame Destiny Box x1
10
1x per Character
Legendary Chunk Destiny Box x1
7
2x per Character
Glowy Hoop Earrings x1
5
Unlimited
Glowy Bangles x1
Glowy Sport Sneakers x1
Guild Seal x2
1
* The items above have no duration and are bound to character.