Event Period: November 12th - November 26th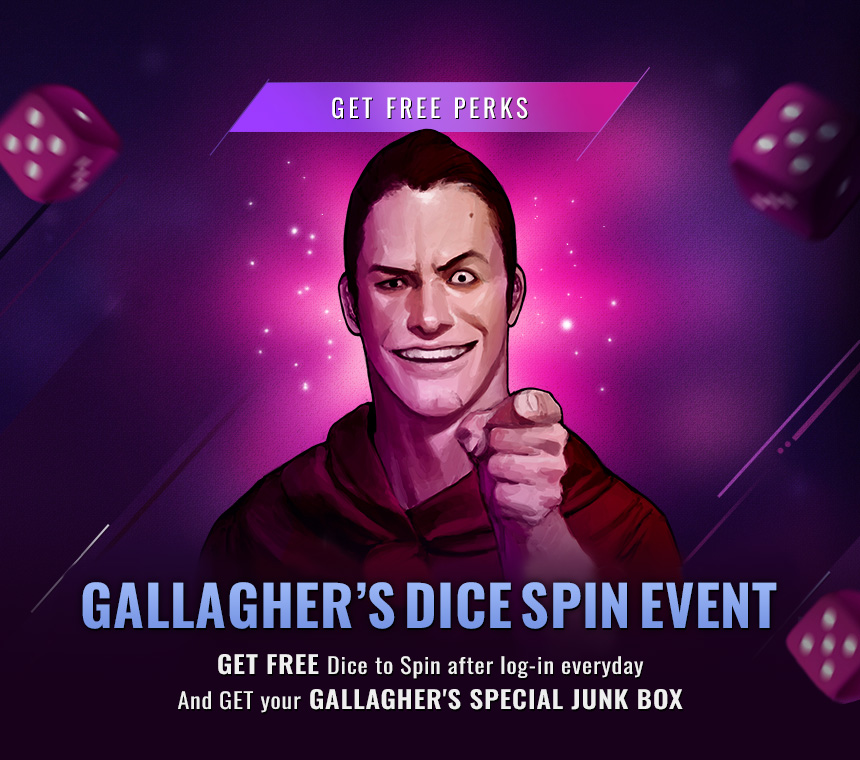 Gallagher wants you to spin that dice! And because of that, he'll give you a free dice after you log in every day! Receive that dice, spin it, and get the [Gallagher's Special Junk Box] now!
[Event Details]
Acquire the dice.
Move based on the dice roll.
Rewards will be earned from whichever square you land on.

Rank S or Rank A items can be obtained from certain squares.

Each time you pass through the starting point, you'll earn a Damascus Steel!
Where to Acquire the Dice?
Complete 'Season 3 Raid' to earn a dice.

You can acquire 3 Max. / Day. (A total of 42 dices before the event ends.)

A bonus dice can be earned when logging in on the weekends.

Max. 2 / Day. (Total of 8 can be obtained throughout the event.)
Date
Acquirable Dices
11/16 (Sat.)
x2
11/17 (Sun.)
11/23 (Sat.)
11/24 (Sun.)
* Acquired dices can be used until 11/26 7 A.M. UTC.
[Event Reward]
Dice Board
The [Gallagher's Junk Box] and the [Gallagher's Special Junk Box] can be used until December 10th, 7 A.M. UTC.
Rank

Item Name

Obtained
Quantity

C

Damascus Steel (Binding)

1

B

AP 200 Capsule (Gift)

1

C

Heavenly Leather

3

C

Godly Cloth

3

B

AP 200 Capsule (Gift)

1

A

Gallagher's Junk Box

1

C

Heavenly Leather

3

C

Godly Cloth

3

B

AP 200 Capsule (Gift)

1

C

Heavenly Leather

3

C

Godly Cloth

3

S

Gallagher's Special Junk Box

1

C

Heavenly Leather

3

C

Godly Cloth

3

B

AP 200 Capsule (Gift)

1

C

Heavenly Leather

3

C

Godly Cloth

3

A

Gallagher's Junk Box

1

C

Heavenly Leather

3

C

Godly Cloth

3

B

AP 200 Capsule (Gift)

1

C

Heavenly Leather

3

C

Godly Cloth

3

A

Gallagher's Junk Box

1

C

Heavenly Leather

3

C

Godly Cloth

3

B

AP 200 Capsule (Gift)

1

C

Heavenly Leather

3

C

Godly Cloth

3

S

Gallagher's Special Junk Box

1
Rank

Item Name

Obtained
Quantity

A

Damascus Steel (Binding)

1

A

Enhancement Rune (Binding)

1

B

Unstable Enhancement Rune

1

B

Unstable Enchant Rune

1

C

Shining Kitty Ticket

1

C

Seal of Bravery

3

C

Triumph Medal

3
Gallagher's Special Junk Box 
Rank

Item Name

Obtained
Quantity

S

Premium Enhancement Rune (Gift)

1

S

Premium Armor Enhancement Rune (Binding)

1

S

Premium Armor Fusion Rune (Binding)

1

A

Damascus Steel (Binding)

1

A

Enchant Rune (Binding)

1

A

Enhancement Rune (Binding)

1